If you own any kind of smartphone, no matter Android or iPhone, you use WhatsApp. This simple yet useful app is used by millions of users every day. Like most people, you should be getting more WhatsApp calls than regular calls. So you might want to change this ringtone to the one you like.  So in this article, we discuss how to change the WhatsApp ringtone in Android and iPhone.
Whatsapp is the most popular instant messaging app right now in the world. It is fun to use WhatsApp. There are over 2 billion WhatsApp users worldwide. Whatsapp became popular quickly since it is very fast and easy to use. You can just create an account using your mobile number and name without further hassle. Whatsapp provides text messaging, VoIP calling, and video calling. You can send pictures, voice recordings, documents, and even share your live location via WhatsApp. These features were handy for many WhatsApp users.  Whatsapp groups also became popular since more than 200 people can be added to one group and they all can chat in the group at once. Most people use WhatsApp to text and call on a regular basis than using their mobile network to send a text message or to make a call.
Whatsapp Notifications
In WhatsApp, these are the notifications you can have; you can have contact message notifications, group message notifications, and calls. For each of these notifications, you can assign a ringtone and vibration alert. With the recent updates, WhatsApp offers you the ability to assign custom ringtones to each of your contacts and groups you have joined. By assigning a custom ringtone and message notification tone you can recognize from which person or which group the notification is coming from and you can either respond or ignore it.
The procedure to change these ringtones and vibration alerts is different for Andriod and iPhone though it's the same app. We will explain how to do it for both device types.
How to change Whatsapp ringtone in Andriod devices.
Before beginning, make sure you have updated WhatsApp to the latest version. To check it, please go to the play store and search for WhatsApp if a button is shown to update, click on it and update WhatsApp.
Set ringtones, vibration alerts for all WhatsApp calls and messages.
As mentioned before, you can change the ringtone and vibration alert for the calls and messages you receive. To do it,
1. Open WhatsApp.
2. Press the three dots on the top right of the screen then go to Settings.
3. Go to Notifications.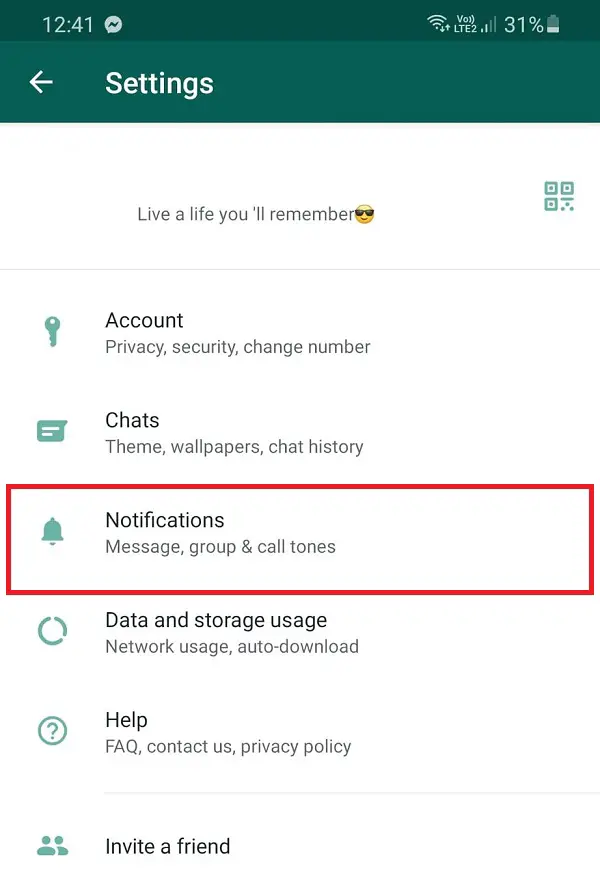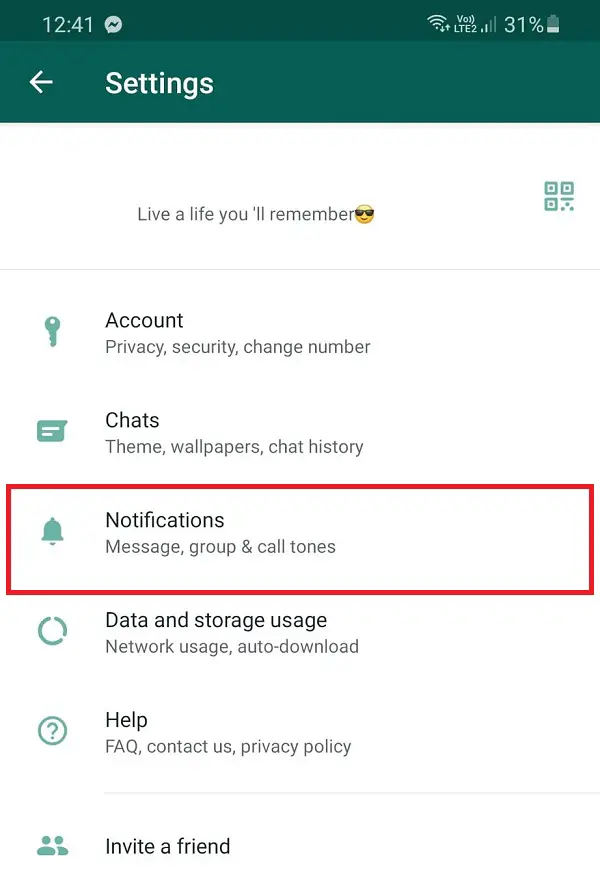 4. Now there are three sections, Messages, Groups, and calls.
5. To change the ringtone or the vibration alert of each section, go to the relevant section, and click on the setting you want to change.
6. Click on 'Notification Tone' to select a new tone for message alerts.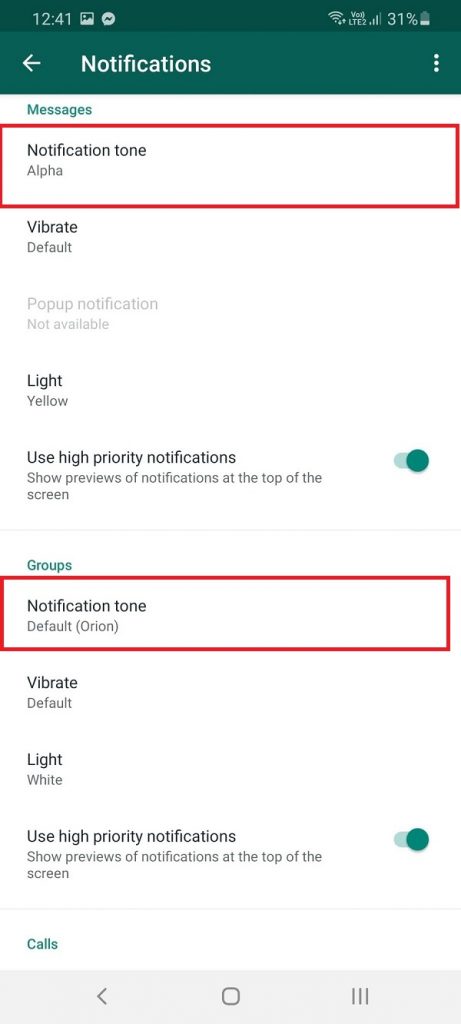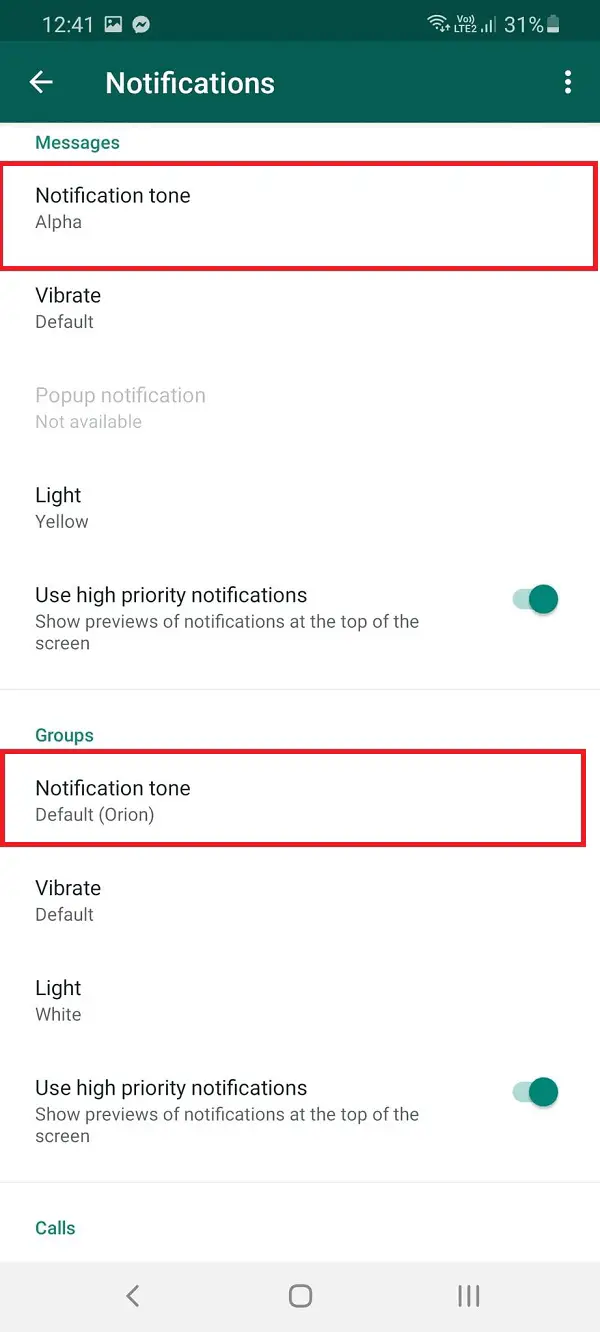 7. In the calls, section click on 'Ringtone' to change the ringtone. When you click it there will be two options, first one is the file manager and the other is media storage.
8. If you select the file manager, you can select an audio file directly from your device and set it as your ringtone. By this, you can set your favorite song as your ringtone.
If you select media storage, you can set a ringtone from the default ringtones available in WhatsApp. Here at the bottom, there is an option to "add ringtone" where you can add a new ringtone to the default ringtones.
Also Read: How to Change Font Style on WhatsApp
Making ringtone silent.
If you want to make your phone silent when a call comes from WhatsApp, just follow the previous steps and go to Media storage instead of file manager when you are about to change the ringtone. From the default ringtone list, select 'None' to make your phone silent when a call comes from WhatsApp.
Set Customized ringtones for contacts and groups.
If you set the ringtone by going into settings it would be your default ringtone. If you need to customize your ringtone for some contacts and groups you can do that too.
Open the group chat or the chat you want to change the ringtone.
Now click on the top bar of the chat, this bar is where the group icon, Contact photo appears with their name.
Now you will be directed to a details page where you can see details of the contract or the group. Find 'Custom notifications' to open the 'Notifications menu'. Click on it.
First enable custom notifications by checking the 'Use custom notifications ' Checkbox.
In this menu, you can customize all alerts and notifications for that contact or group. Scroll to the bottom to find call notifications.
By clicking on "ringtone" you will be able to change the ringtone for the contact or the group.
When you set a customized ringtone for a group or contact, when a call from that group or contact comes the default ringtone would not play. Instead, the custom ringtone would play. However, for all other groups and contacts, including unknown contacts, the default ringtone would play.
By going into the same settings, you can change vibration alerts and message notifications too.
Also Read: How to Show Offline on WhatsApp While Online [Android & iPhone]
How to change Whatsapp ringtone in iPhones
If you are using iOS 10 or above it's not possible to change the ringtone just for WhatsApp only. By ringtone, we mean the ringing that comes when a call comes on WhatsApp. WhatsApp will use the default ringtone which is used by the phone. So if you want to change the ringtone you will have to change the ringtone of your device. However, you can still change message notifications for contact messages and group messages in WhatsApp. You can also set a customized ringtone for each contact if you like by using the contacts app on the iPhone. We will explain how to do all these things on the iPhone.
Change WhatsApp call ringtone in iOS 9 or older.
Open WhatsApp.
In the bottom right you will see a settings icon. Click on that icon to open Settings.
Find Notifications in the settings menu.
Go to sounds and change the ringtone to a suitable sound.
Mind that this may not work with the latest updates. As we said before iOS 10 and later versions do not allow you to do this.
Change WhatsApp ringtone in iOS 10 or later
If You want to change the ringtone in iOS 10 or later version here is what you should do.
1. Go to the home screen and click Settings.
2. Click on the Sounds and haptics option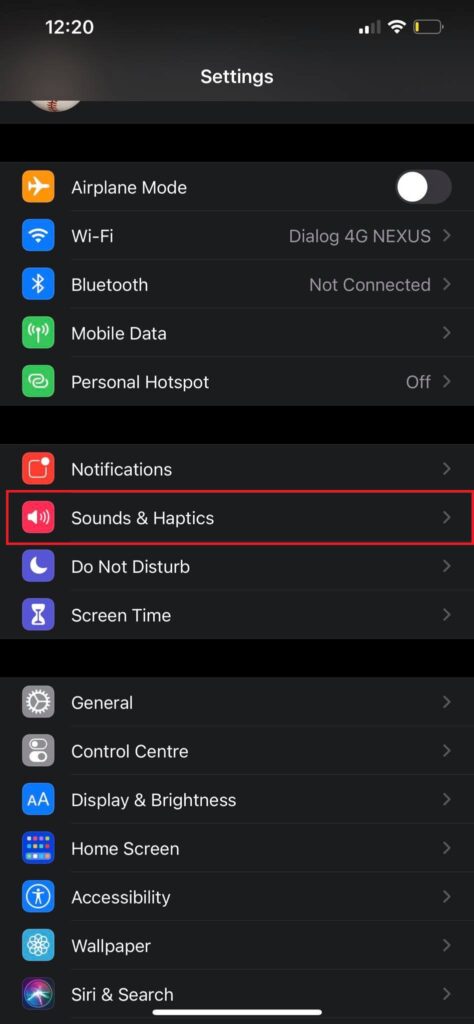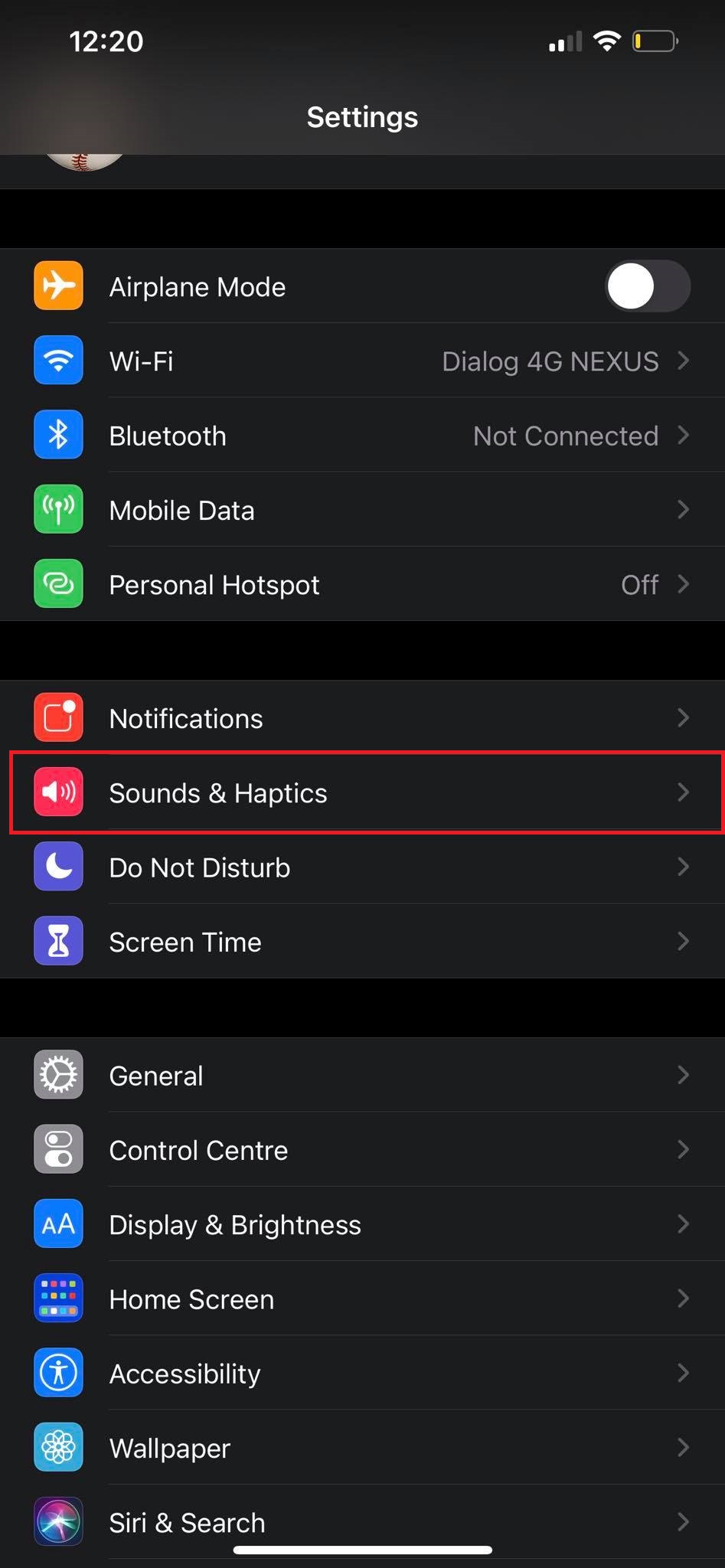 3. Now you will find the ringtone option. This is listed under 'Sounds and vibration patterns"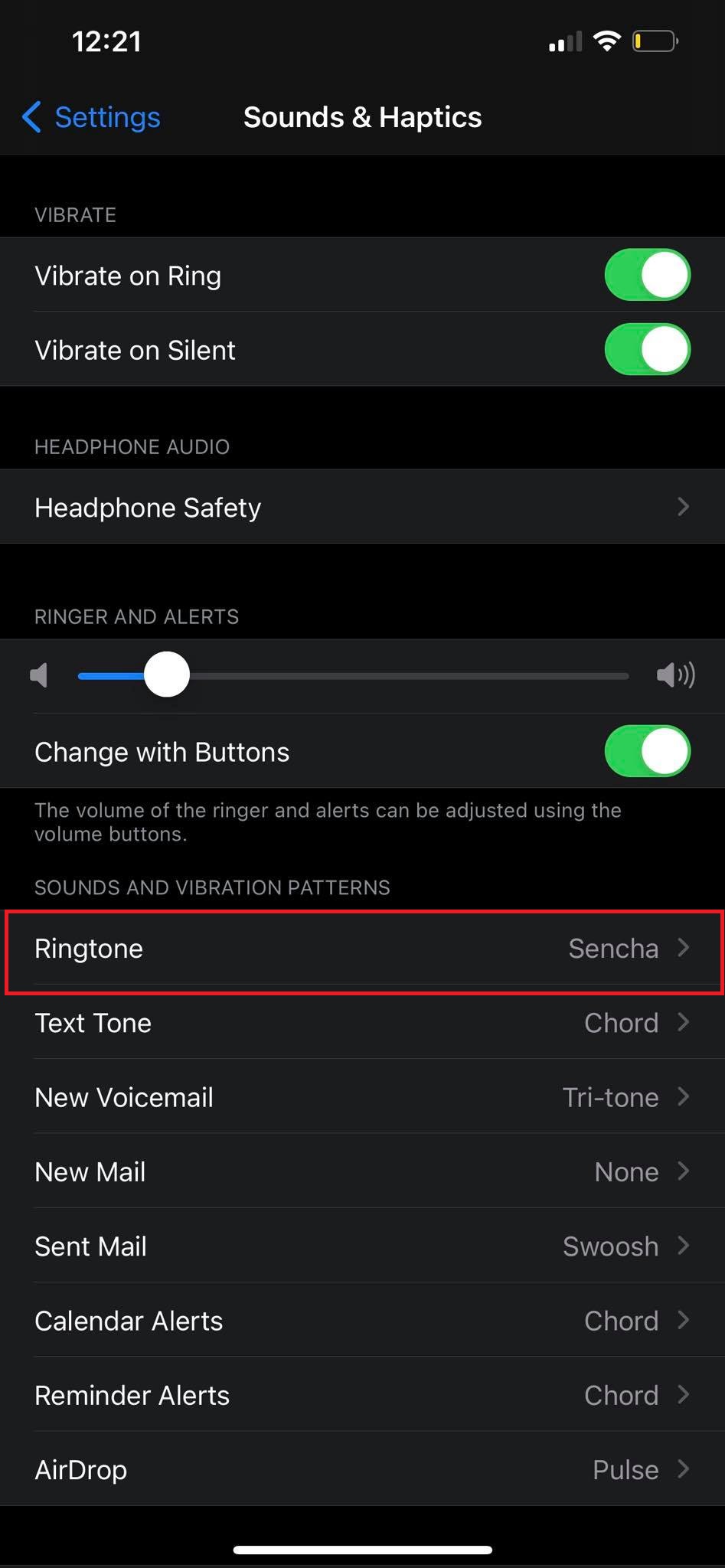 4. Now you can select a suitable ringtone.
The ringtone you select would be applied to all calls receiving to your device. It may be a normal call, WhatsApp call or Viber call the ringtone would be the same. There is no way to customize the ringtone app-wise in new iOS versions. However, you can customize ringtone contact-wise. This means you can assign a different ringtone to each of your contacts so that when that person is calling you will hear a different ringtone. Follow the steps below to assign a custom ringtone to some or all of your contacts.
Open the contacts app on your iPhone.
Search for the contact you need to change ringtone and tap to open the contact.
There is an edit button on the top right corner. Click on it.
Now you will see the ringtone option. It is set to default; click on it.
Choose the ringtone you need and click done.
By changing the 'text tone' on the edit menu, you can change the text message tone for this contact.
Also Read: How to Get Snapchat/WeChat/Telegram Stickers on WhatsApp