Snapchat is becoming a widely popular Instant messaging app among teenagers and young people. Snapchat offers some awesome features such as a wide range of face filters, vanishing messages, and short video updates. Today we hope to discuss how to know if someone blocked you on Snapchat.
How to know if you are blocked on Snapchat
Here are some general guidelines to determine if you have been blocked on Snapchat by someone.
If you assume that you are being blocked, you should investigate since you won't get any notification or message when you are blocked.
When you are blocked, you won't be able to see their presence on Snapchat in any way. This means you cannot see their stories or snaps. You also cannot send them snaps or you cannot chat them,
Your conversation with that person will also be disappeared when you are blocked on Snapchat.
If someone deactivates their Snapchat account, similar things could happen. So we will tell you some pretty easy ways to confirm this assumption. Knowing the username of the person you are looking for makes things very easier since the username of a Snapchat user cannot be changed once an account is created. However, you can still look for them using their name. Follow the steps one after another until you confirm that you have been blocked.
1. Check your friend's list
The first thing you should do is to check your friend's list on Snapchat to see if the person is present on that list. But if the person was not your friend, they may not appear in this list.
1. Open the Snapchat app.
2. Now click on your profile picture.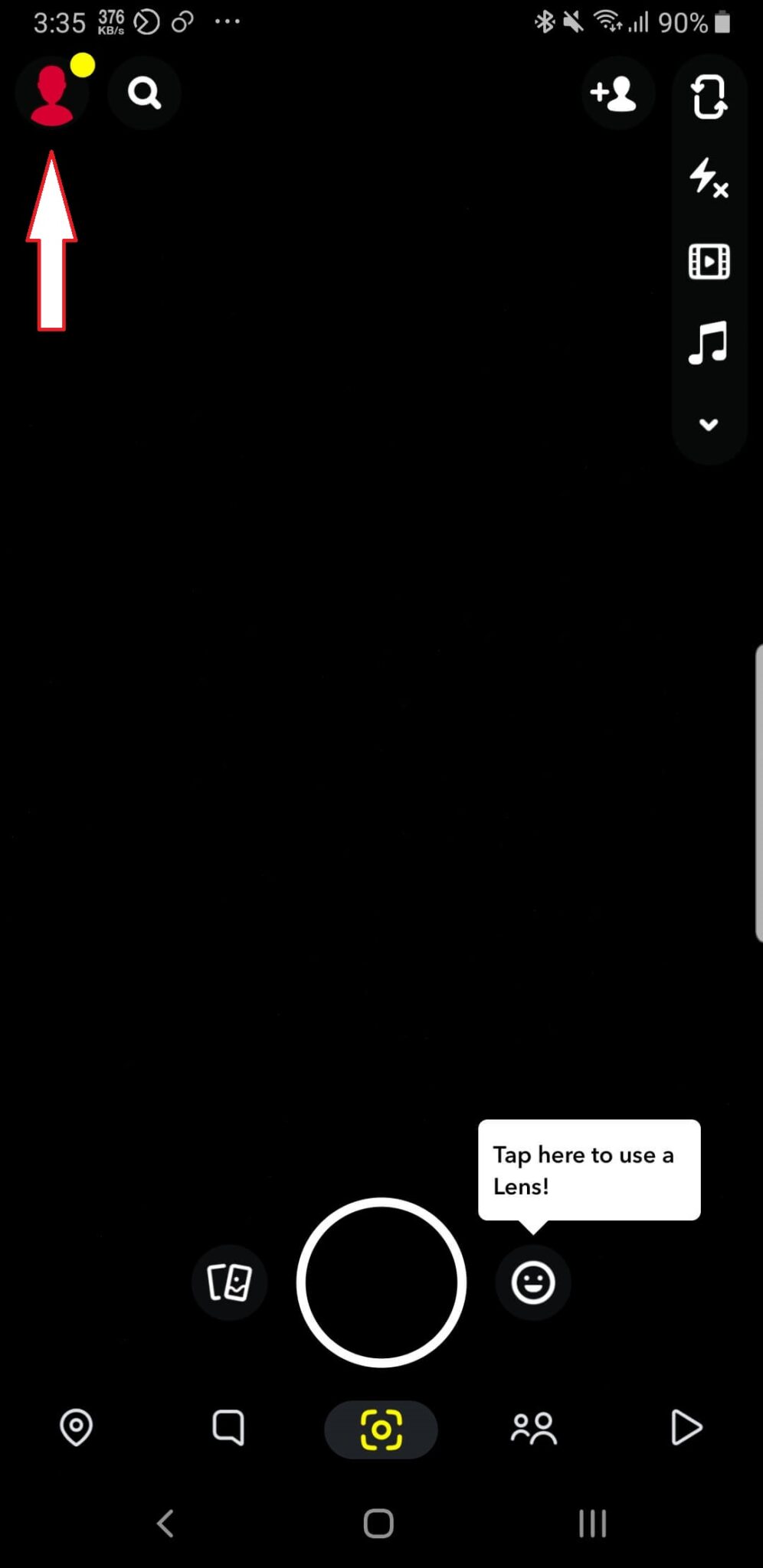 3. Scroll down and click on my friends.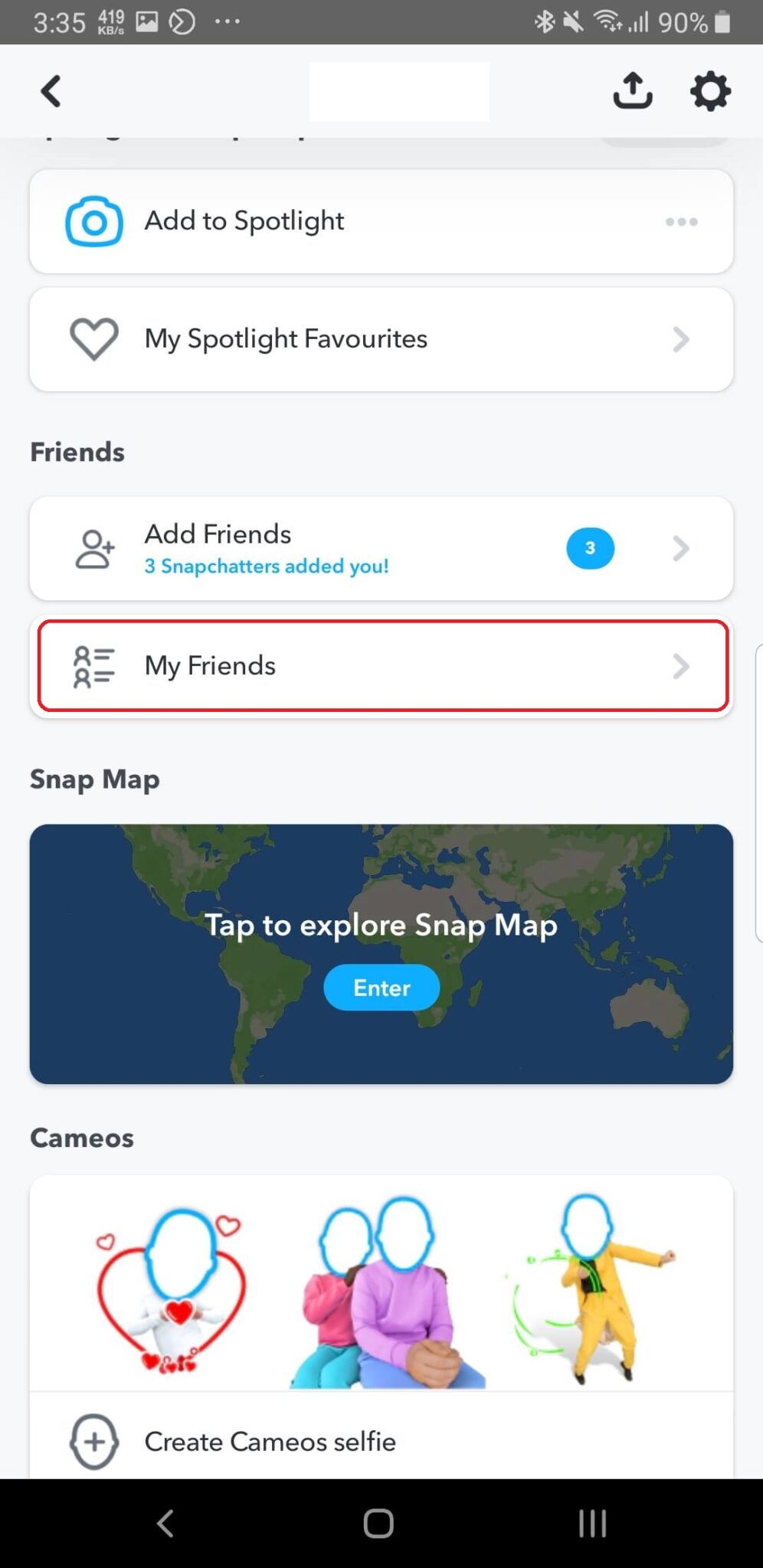 4. Now, search through the list to find the person.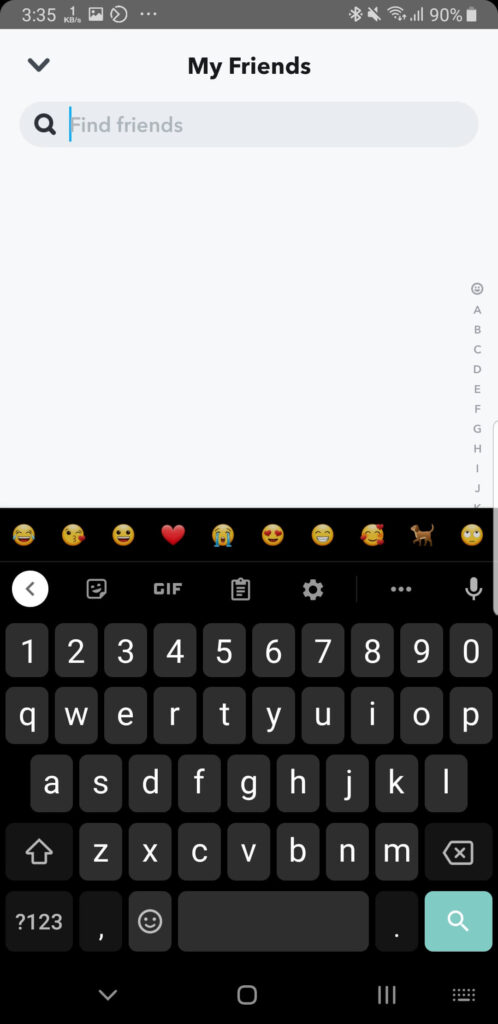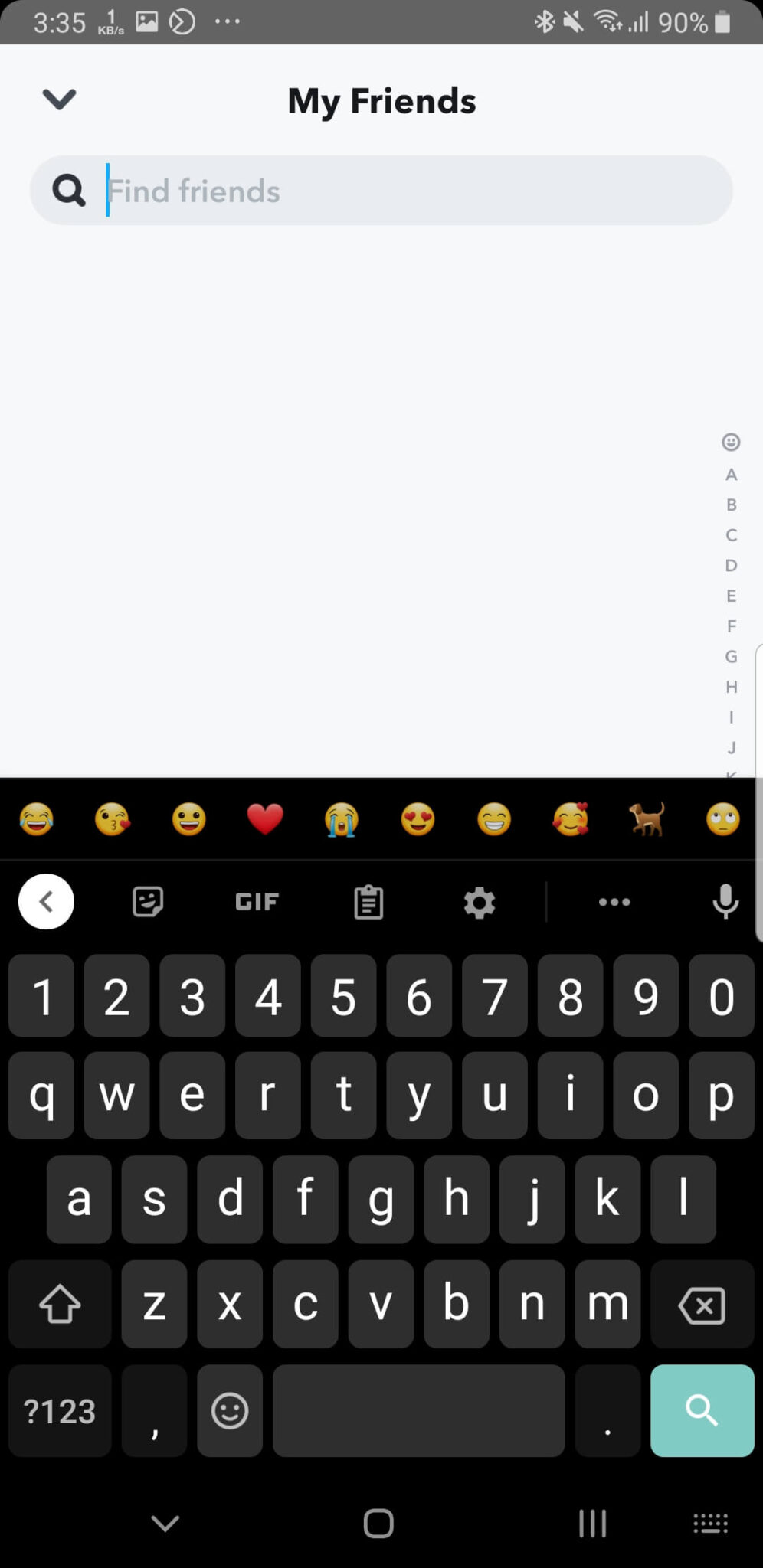 If the person is not on your friend's list move on to the next step.
2. Check the recent conversations
Suppose you have chatted with this person recently. The messages should appear in your message inbox. You can search for the conversation to see if they have blocked you.
If you cannot find the conversation you had with that person we can assume that you have been blocked. But yet we need to confirm it. So move to the next step.
3. Search for them on Snapchat
Sometimes they might just remove you from their friend list without blocking you. The best way to find this is to search them on Snapchat. If they appear in the results list that means they have deleted, you from their friend's list but have not blocked you.
To search for a person on Snapchat you will have to go to the search bar. You can access the search bar by tapping the magnifying glass icon on the top. Now you can search for a user in Snapchat using either their username or their name. If you find them by the username the exact profile will show up in the results since usernames are unique. But if you search them by their full name a list of names will come since there could be many users by the same name.
Difference between blocking and deleting from friends list: When you are blocked by someone you will not be able to find anything about them or their profile in Snapchat from your account. However, when you are just deleted from your friend's list you can find them in Snapchat and may be able to add them again.
4. Search them through another Snapchat account
If previous steps imply that you have been blocked from someone's Snapchat account now it's time to do the final test. This test can prove if you are blocked from the Snapchat account.
This is pretty easy all you need to do is to look them up from another Snapchat account. But what most people don't know is how to log in to another Snapchat account from the Snapchat app. We will guide you through it.
To log in to a new Snapchat account, you will need a new mobile number. Make sure that your mobile number can receive texts. If you have created a Snapchat account, you will need the username and password to log in.
To logout from old Snapchat account,
Open Snapchat
Click on your avatar to open your profile.
On the top right, you will see the settings icon. Click to open settings.
Now scroll down to the section "Account Actions"
Click on logout.
You will be prompted to save the account information before logout. Save the information so you can log in to this account later,
Now you will go back to the login screen of Snapchat. Click on the sign-up button to create a new Snapchat account with a new mobile number, or you can click switch account to login to an existing Snapchat account.
Also Read: How to Get Snapchat Dark Mode on iOS & Android Devices
After logging in to the new account you can search for the person to see if they have blocked you. If their account shows up in the new account it means that you have been blocked in your old Snapchat account. If their account doesn't show up it means they have deactivated their Snapchat account.
What to do if you are blocked
Most of the time blocking a person is done intentionally. The reason for being blocked could vary. Sometimes it could be a personal reason, or just something you did may have annoyed them. But in some cases, it could be a mistake. Either way what you can do is to contact the person who blocked you from a second Snapchat account, or from another contact (Facebook or WhatsApp if you have their contact) and asks them to unblock you. They will unblock you if they have blocked you by mistake.
How to block someone on Snapchat
You might want to know how to block someone on Snapchat too. So we will give you the steps.
Open the contact you want to block. You can open the contact by going into the friend's list or just by searching their name.
Click on the three dots on the top right.
Click on the block.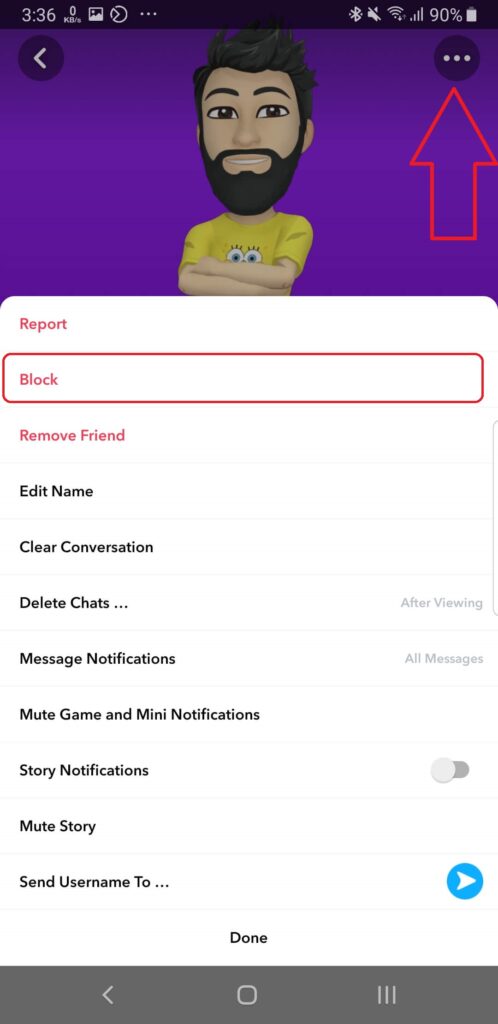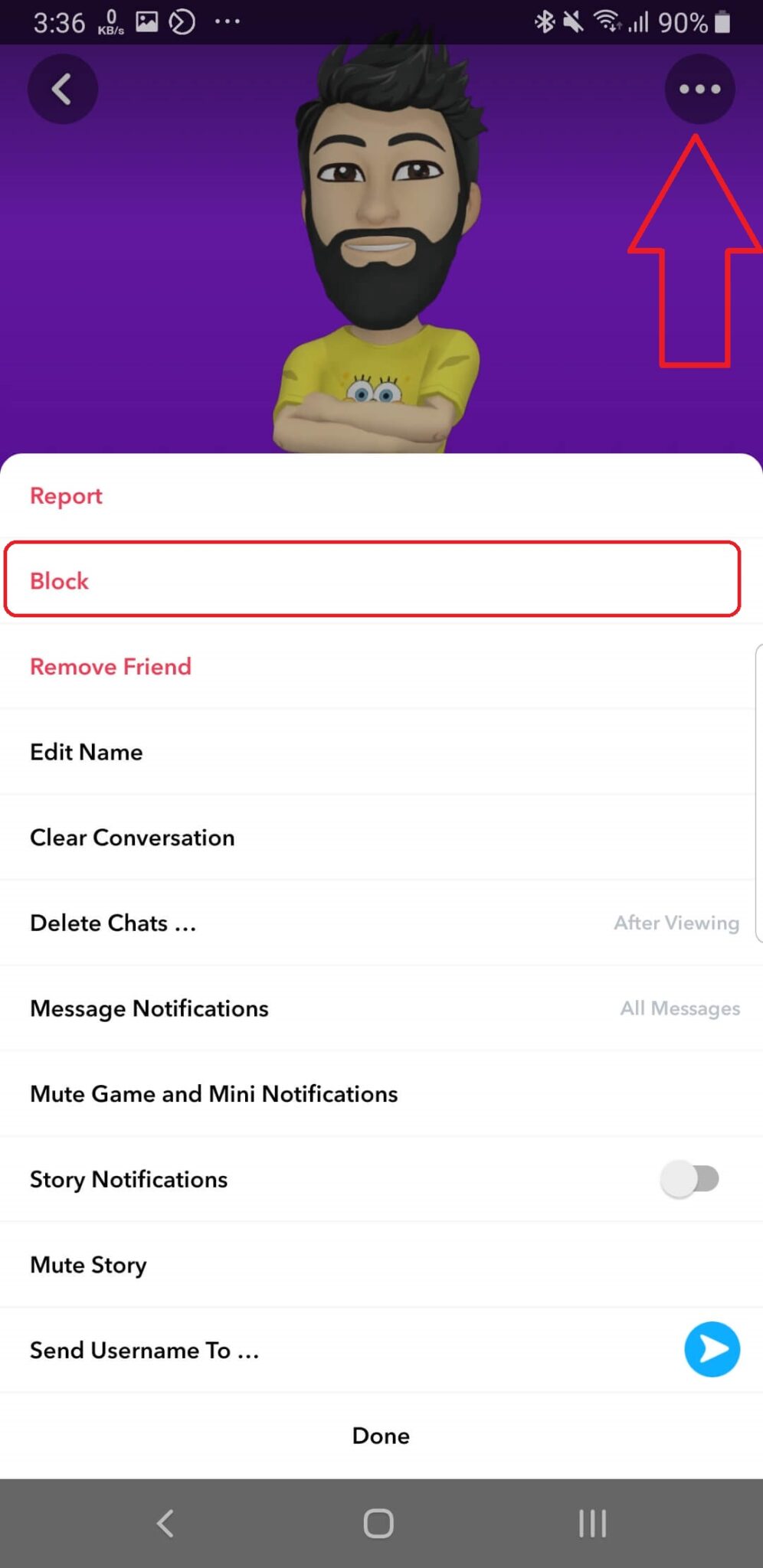 Also Read: How To Get Snapchat on Apple Watch