People love privacy, and almost all messaging apps and services develop ways to protect the privacy of their users' conversations. We have the end to end encryption, secure messaging, and some other ways to protect our conversations from cyber attackers. But how about hiding our discussions from the people who are peeking at our phones at once? Well, Apple has given quite a simple but effective solution to this problem. It was called the 'invisible ink' effect. Today we will discuss what is invisible ink and how to use invisible ink on iOS 10.
Apple is famous for introducing many cool features with each of its updates. We have seen lots of amazing updates over the past couple of years and these new feature updates are unique to the Apple ecosystem. Among these updates, Apple introduced some effects which can be applied to plain text messages which are exclusive to the iMessage app. These are called bubble effects. The bubble effects for messaging first came into play with iOS 10 in 2016. The primary aim of these effects is to change the way how the messages look on iPhone. Both users need to be apple users to get the effect of these messaging features.
Actually bubble effects are quite fun. They can add many emotions to your text message visually than just typing the message or adding a couple of emoji. The message itself can deliver some expression when a user reads it. Invisible ink is only one effect that Apple offers you; there are many other effects you can try.
As explained before the primary goal of the invisible ink effect is to hide the message from the people who are physically around you. There are many occasions where you take out your phone to read text messages where there are many known and unknown people around you. On these occasions, if someone peeks at your phone, the messages will be visible and they could read the messages. By using the invisible ink effect you can hide the content of the message. The message would be unreadable until you swipe on top of it and make it readable.
How to use invisible ink on iOS 10
This is easy, the feature is added to the messaging app and you can use it there. Just follow the steps.
1. Open your Messages.
2. Select the recipient you want to type the message.
3. Type the message on the message box.
4. Tap and hold the Send button, and this will open the bubble features menu.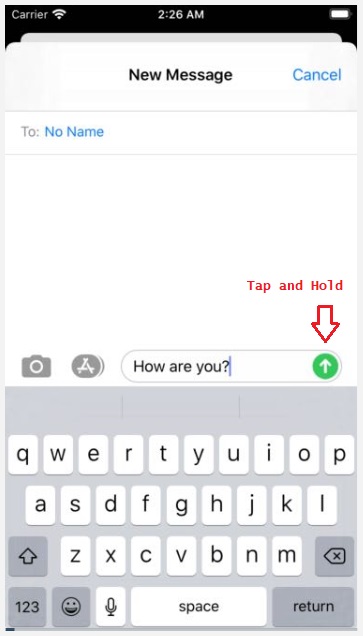 5. Select the invisible ink feature from the menu.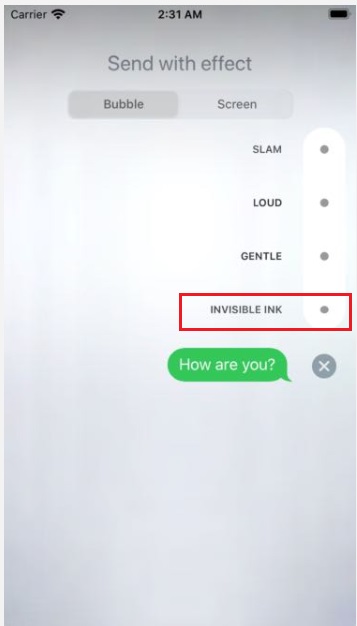 6. Click on the Send button to send the message.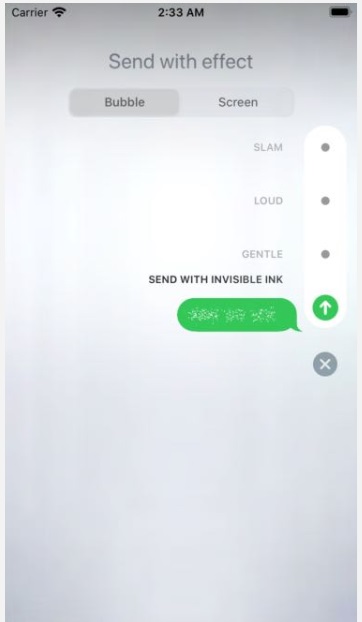 Now you will see the message is covered with a text overlay making it impossible to read. It will be shown in the same way on the recipients' end. To read the message you will just have to swipe on top of the message and the message will appear. But within seconds message will disappear and the overlay will appear again hiding the message.
You can also send picture messages using this effect. It is very useful since it will hide your conversation and someone who will be staring at your phone screen will not be able to read the message.
What if invisible ink does not appear on your messaging app?
Some users complained that they do not have this effect though they have upgraded their phone to iOS 10 or later versions. This is not a bug; this is because one of your settings has been switched on disabling the feature. This is how to fix it.
Go to your settings.
Go to the general tab.
You will see an option called "accessibility", tap on that.
Scroll down until you find the option "reduce motion", turn that option off and try again with the invisible ink feature. It should work fine.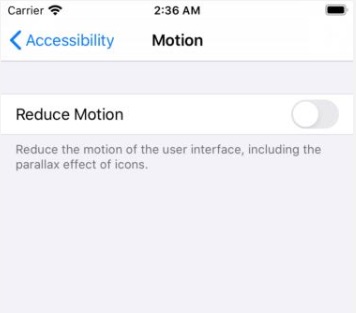 Other bubble effects on messages
As we said before invisible ink is just one of many bubble effects that were introduced to iOS 10. The invisible ink effect is used to protect our privacy, but other effects can add some emotions to our message. Let's take a quick look at them.
Slam: As the name suggests, this effect will slam your text to your recipient's screen, It's a cool effect and you can use it to express surprise or like a high five. When the slam effect is used you can see other messages are also getting kind of a shock when the message "slams" into the screen.
Loud: Message will enlarge the message and slowly shrink it down to the standard size. It can be used just to get quick attention to the message.
Gentle: In gentle, the opposite of loud happens. The message will shrink to a smaller size and grow back slowly to the normal size. This is like saying something is extremely low volume just trying to "keep it low."
Keep in mind that these features only work for iPhones only. This means that both the sender and the receiver should be iPhone users. Plus both devices should have iOS 10 or higher versions. Otherwise, these features would not work.
Most of the iMessage features would not support android. As an example, if you send an animated emoji to an android device, it would just show an emoji without animations in most cases.
Snapchat stealth mode and Instagram stories vs Invisible ink
The invisible ink feature is different from Snapchat stealth mode and Instagram stories. In Snapchat, the stealth mode offers you the feature to automatically delete the message after the receiver reads the message. Instagram offers a similar feature in picture messages.  When you send a picture message to someone, the receiver could only view it once.  But when you apply invisible ink to a message on the iPhone, it does not destroy the message. The message will always be there, just the content only is hidden under a text overlay. So this is a different privacy method than the other messenger apps and it covers a different perspective of your messaging privacy.