How to force restart your iPhone may be the last thing you want to know when you buy a new iPhone. However, being aware of the procedure is really advantageous. But why is this so? It is possible that a normal restart will not work when your iPhone's screen is black, frozen, and not responding for the simple reason that your iPhone has put itself in a situation in which it will not recognize you when holding down the power and volume buttons.
Force-restarting your iPhone may bring it back to life if it has become unresponsive and won't restart in the normal manner. A force-restart of your iPhone does not remove anything from it. Many users experience problems with their phones being stuck, which is why we've put up this guide on how to force restart your iPhone.
How to Force Restart Your iPhone XS/XR, iPhone X, iPhone 8, and iPhone SE, iPhone 11, iPhone 12, iPhone 13?
To force a restart on iPhones featuring Face ID, follow these steps:
1. Press and then let go of the Volume up button.
2. Press and release the Volume down button.
3. Press and hold the side button until you see the Apple logo appear, and then release it to continue. Ignore the slide to turn off the slider that appears due to this action.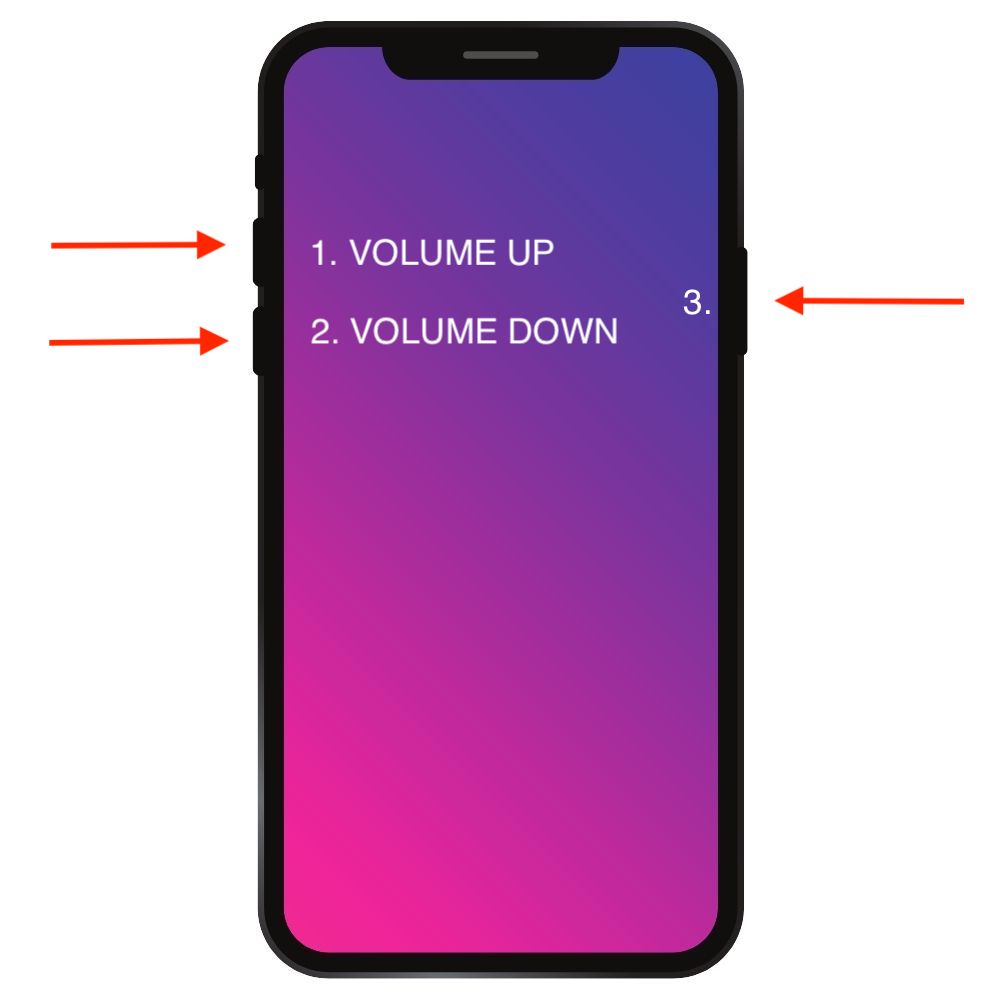 Wait for your phone to restart.
How to force restart your iPhone 7 or iPhone 7 Plus?
Long press the power button.
Press and hold the Volume Down button at the same time.
The Apple logo should appear after around 10 seconds of holding both buttons down.
How can you force-restart your iPhone 6s or earlier model?
Long press the power button.
Press and hold the Home button at the same time.
Hold both buttons for 10 seconds, or until you see the Apple logo.
Can a force restart of the iPhone solve any problems?
If you are experiencing any of these problems, you should first attempt to fix them by force restarting your iPhone.
1. Touch ID is not functioning properly
As soon as Touch ID doesn't work, most people think there's a problem with the hardware. You should attempt to force restart your iPhone before making any conclusions. A quick restart may resolve this problem.
2. Having difficulties connecting with the network (or cellular data)
Force restarting your phone is recommended if your phone cannot connect to a network or has no coverage in any area. By doing so, you may be able to regain access to your cellular data and network coverage.
3. Wrong update
An incorrect update will often leave your iPhone stuck on the welcome screen (the Apple logo). It is possible to force the iPhone to restart if it is stuck in a bootloop, addressing the issue. It is possible to go back to a previous version of iOS if you feel that the new update is too problematic.
4. There is nothing on the screen
Users may see an unexpected blank screen when using their phones at varying times. There might be various reasons why you see a blank screen. It occurs mostly in response to a malware assault or a failing driver, respectively. This issue may be resolved quickly and easily by executing a hard reset on your iPhone.
5. The display has gone red
You may get a red screen on your mobile device if your firewall is not up to date or if you sometimes download stuff from untrustworthy sources. Don't worry! This problem will almost always be resolved when you force restart your iPhone.
6. Recovery mode stuck
As has been noticed in the past, the device often becomes stuck in the recovery mode when attempting to restore data from iTunes. iTunes will be shown on the screen, but the device will not do anything else. Unplug your phone from the computer and force it to restart to resolve this problem. After you've resolved the problem, try connecting it again.
7. The dreaded "blue screen of death"
The blue screen of death, like the red screen of death, is often connected with a malware infection or a faulty software update. This, on the other hand, is more common with jailbroken devices. The iPhone should be restarted if your phone doesn't work and its screen is blue.
8. The screen is magnified
When there is an issue with the phone's display, this occurs most of the time. On the other hand, users have reported that they could resolve the issue by executing an iPhone force restart. If you're fortunate, a simple restart of the device should be sufficient to resolve the problem.
9. The battery is dropping fast
Even though this is a rare problem, a few users have reported seeing it lately after upgrading their phones to a newer version of iOS. For those experiencing battery draining at an alarming rate, forcing a restart of their iPhone may be necessary to correct the problem.
What should you do if your iPhone is still not responding?
So you've attempted to force a reset on your iPhone, but it continues to glitch or freeze when you try to turn it on. To solve this problem, there is just one thing you can do.
Starting with a USB cable, connect your iPhone to your computer and proceed.
Launch the Finder application if you are using a Mac with macOS Catalina or a newer version. You may use iTunes on Macs running earlier operating systems (such as Catalina) or Windows computers.
Look for your iPhone in the Finder or iTunes.
The procedure for forcing a restart of your iPhone is the same as stated in the section above. Instead of the Apple logo appearing this time, the recovery mode screen will be shown.
Wait until your computer shows a window requesting that you update your iPhone, then click on "Update." The update or reinstall of iOS on your phone will take place now.
Step 4 should be repeated if the procedure takes more than 15 minutes to re-enter recovery mode.
Wait for the procedure to come to a close.
Done!
Wrapping Up
That's all there is to it! It should be easy to force restart your iPhone after reading this post. As previously said, many difficulties and issues may be resolved by just forcing your device to restart. Knowing how to resolve these problems allows you to simply do a forced iPhone restart and overcome various difficulties while on the road.