Have you seen small windows pop up all over your screen when you surf the internet? Which are annoying and could be dangerous as well, pop-up ads could be phishing attacks or a gateway for viruses to enter your iMac or Macbook.  There are pros and cons of the Pop-ups and the user needs to be watchful on what he requires to be clicked in. As pop-up ads seldom give you meaningful insights.
There are two types of Pop-ups, one which has direct access to your computer and is a hazard, and mostly the pop-ups you'll receive are scams, phishing attacks, or interferences when you are surfing something useful/important and the other type of pop-ups are beneficial for you where you can get alerts about your go-getter websites and latest updates of the individual sites which you have been accessing almost every day.
How to enable pop-ups on a Mac – Safari Browser
Now let's see how we can enable pop-up blocks for all sites in Safari with your mac.
Open up Safari browser.
Click Preference from your safari menu.
You get to see an icon called Websites, click it.
Select Pop-up Windows on the left sidebar.
Bottom right, you get a drop-down grid, select Allow.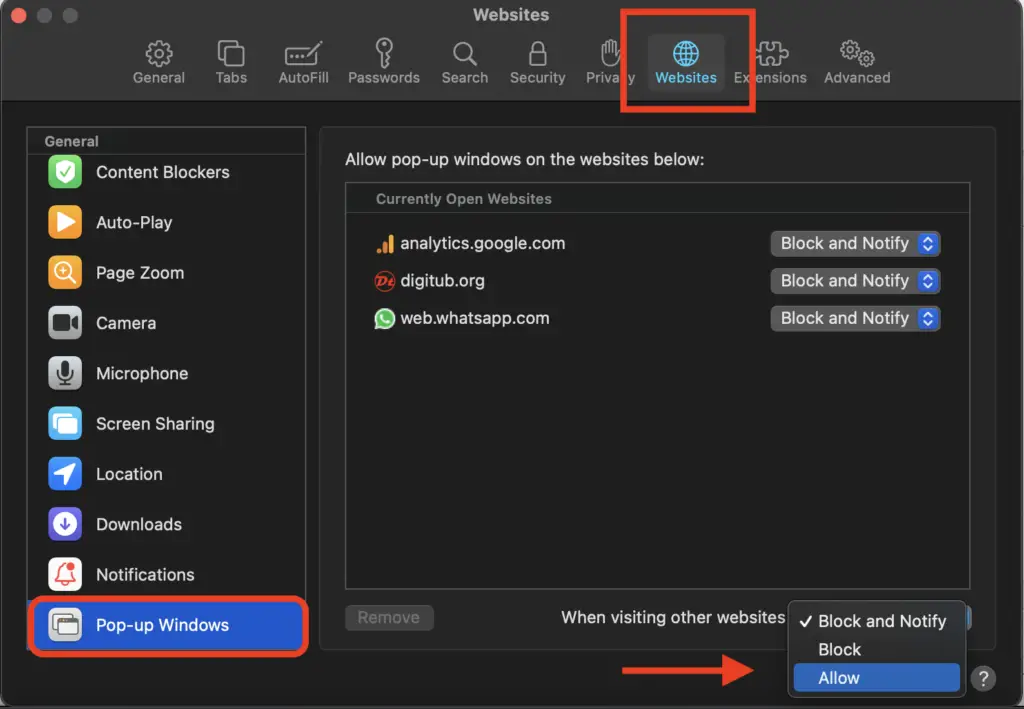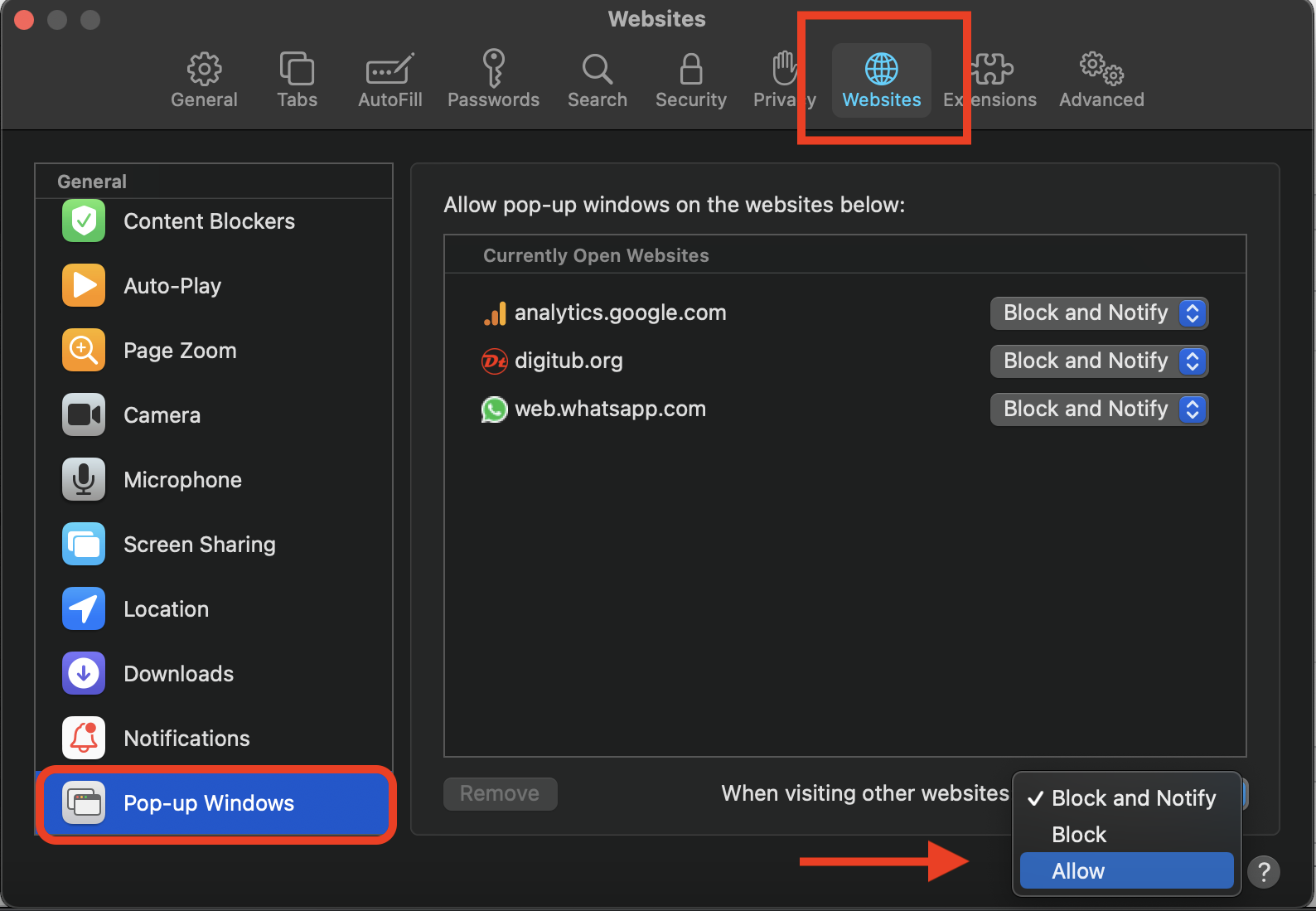 Enabling pop-ups only for a specific site via Safari 
Open the Safari web browser on your Mac.
Go to Preferences from your safari menu
Click the Websites tab from the menu.
Select Allow from the drop-down list, after visiting the targeted website.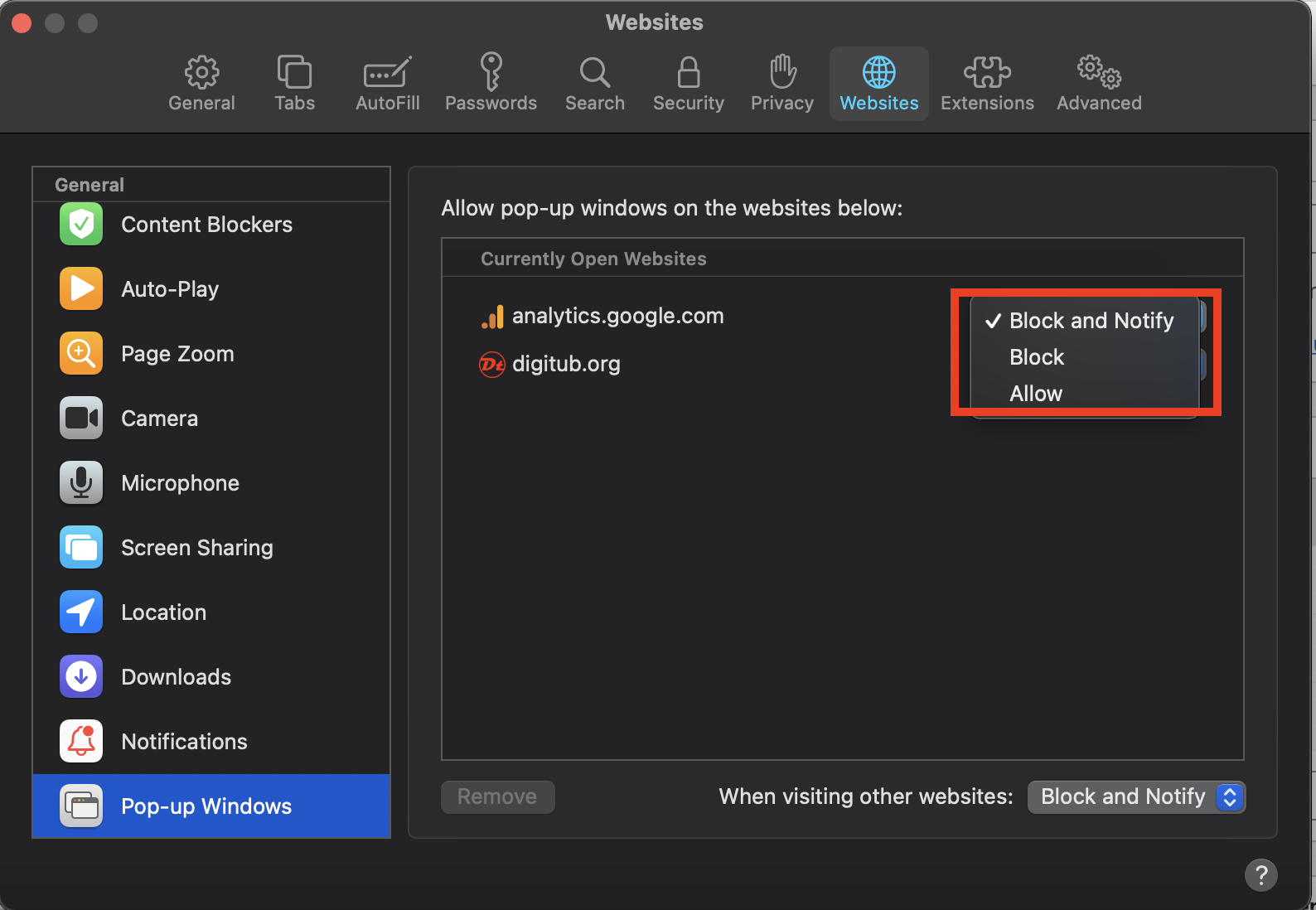 Once you activate it successfully, Safari will warn you that you have activated pop-up alerts.  As mentioned above, pop-ups are dangerous and will be a cyber security threat. 
Also Read: How to Move Safari Search Bar to Top or Bottom of Screen on iPhone
How to allow pop-ups on a Mac – Google chrome browser
If you are someone who is using Google chrome in your Mac, chrome has blocked the pop-ups by default but if you require it to be enabled you can simply follow the below process.
Open up Google Chrome.
On your right-hand side top corner, you will see three dots, click it
From the menu you get, select Settings.
In the list of items on your left side, select Privacy and Security

 

Scroll down the page and you will see Site Settings, open it.
Next click, Pop-ups, and redirects
Under default behavior, you can see an option called Sites can send pop-ups and use redirects, click it.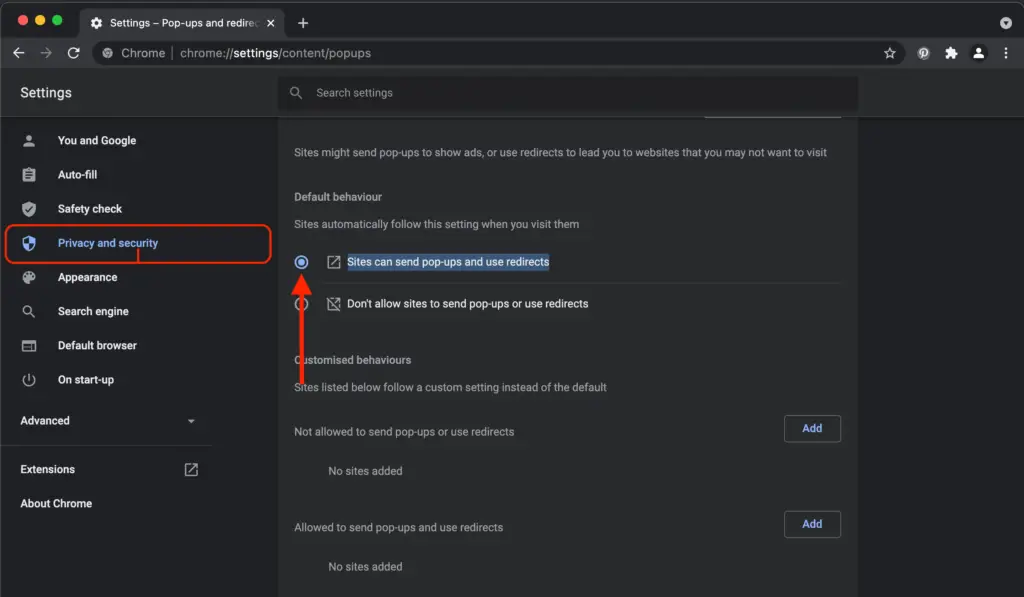 Enabling pop-ups only for a specific site via Chrome
Open Google Chrome.
Visit the webpage you need pop-ups to be allowed.
Tap the "Lock icon" on your left-hand top, in front of the site name.
Select Site Settings, from the drop-down menu.
From the permission list, select Pop-ups, and redirects and from the drop-down select Allow.
Conclusion
In a literary context, you will have a peaceful surf without pop-ups. If you wish to keep pop-up enabled better to have your guard up to protect from malware.
Also Read: MacBook Air – 16 Answers You Should Know (For Beginners)