You've come here in search of an answer to the question, "how to fix an Apple watch with a blinking Apple logo." In this scenario, you're not alone; many Apple Watch owners have expressed similar worries.
When trying to turn on their Apple Watch, some users have reported seeing a flashing Apple logo, which prevents the device from booting up normally. If you are experiencing this issue, you will notice that the Apple Watch logo starts flashing continuously and that the buttons become unresponsive. A software or hardware problem could be the cause of this problem, or it could be something else, too. This issue may be brought on, for example, by an update error.
Apple Watch Blinking Apple Logo Fix
For this situation, there are many possible solutions, including:
1. Hard reset the Apple Watch
Many problems can be solved by hard resetting the Apple watch, including a blinking Apple logo. However, please keep in mind that this may or may not solve the problem. Here's how to do a hard reset on your Apple Watch:
Make sure you simultaneously press down on both the side buttons and the digital crown. The Digital Crown is the spinning button on the side of the gadget that allows you to control the device.
Continue to keep holding these two buttons down until you see them.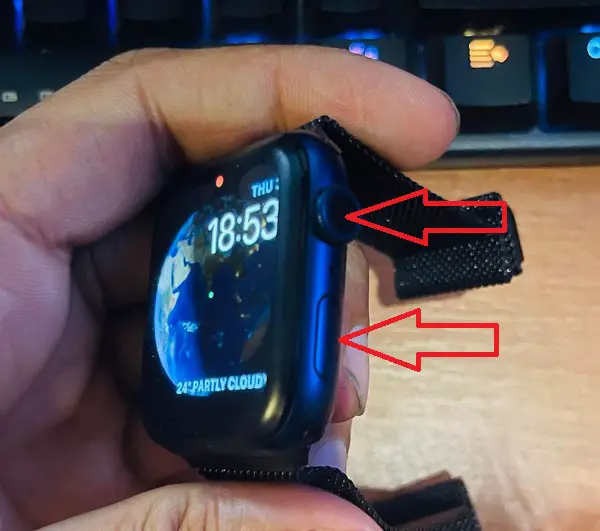 Your Apple Watch will reboot, and you'll be asked to enter your password (if you have one) when it has finished booting up. If you're prone to forget it, it's essential to have your passcode on hand before beginning the hard reset procedure. You'll need to erase the device via the Watch app on your iPhone and then restore it from a backup if you happen to forget your passcode.
2. Perform a factory reset
The next step you may want to take is to reset your watch back to its factory settings if necessary. This is the part where you get rid of all of your settings and content. Before wiping everything, your iPhone will make a new backup of your watch. Here's how it's done:
Do not remove your watch from its charging station until all of these procedures have been performed.
Press and hold the side button for the power off screen to display.
"Erase all content and settings" appears when you hold down the Digital Crown button.
Next, follow the on-screen instructions to complete the process.
Once finished, reset your watch. It is also possible to restore from a backup.
3. Draining the battery
This procedure is quite simple; all you have to do is allow the battery to discharge completely. So, how would you determine whether the battery has been completely depleted? It's also straightforward. Allow the Apple Watch to sit without being charged for about 10 hours. In the next step, try turning on the watch. The battery has been completely drained if the Apple logo does not show. The next step is to allow the watch to charge completely. It will need to be charged overnight.
4. Unpair the Apple Watch from the iPhone
To unpair your Apple Watch from your iPhone, follow the procedures outlined below:
During the process of unpairing them, keep your Apple Watch and iPhone close together.
On your iPhone, you must launch the Apple Watch application.
Select "All Watches" from the My Watch drop-down menu.
To unpair a watch, click the information button next to the watch that you wish to unpair.
Next, tap "Unpair Apple Watch."
In the case of GPS + Cellular devices, you have the option of keeping or removing your cellular plan.
Stick to your plan if you want to pair your Apple Watch and iPhone again.
Remove your plan if you don't want to pair your Apple Watch and iPhone again. If you don't intend to pair it with a new watch or iPhone, you will have to contact your cellular provider to discontinue your service.
To confirm, tap the screen a second time. You may be prompted to input your Apple ID password in order to deactivate Activation Lock.
5. Make sure your software is up-to-date
It's a good idea to double-check your software. Your Apple Watch should be running the most updated version of watchOS, and your applications should be up-to-date. Here's how it's done:
Software updates are available via the Settings menu (General > Software Update).
To update your Apple Watch software on your iPhone, launch the Apple Watch application, choose the My Watch page, select General > Software Update, and follow the onscreen steps.
Wrapping Up
These procedures should be effective in resolving the Apple Watch blinking logo problem. You will likely need to contact Apple support if none of the above approaches successfully fixes the problem. Most importantly, the Apple Watch blinking issue is not a big issue, which is a huge relief. So, these procedures are effective in the majority of cases.