Have you misplaced your Apple AirPods? Don't worry! Here is a complete guide on "how to find lost AirPods." It can help you find them. When you lose your AirPods, it can be hard to find them again. In your search for them, Apple's Find My app will be very important. And that's because it can show you where they are on a map or play a sound that will help you find them if certain conditions are met.
Their exact location will only become visible if they have Bluetooth connectivity with an iOS, iPadOS, or macOS device. Although they may be out of range of your iPhone or iPad, the app will still present you with their most recent location. This might be important as you begin your search. Keep in mind that Find My won't be able to find your AirPod case if you lose it. Using it is only beneficial if you lose your AirPods earbuds or, in the case of the AirPods Max, your headset.
Is it easy to misplace the Airpods?
There is a reason why AirPods are so easy to lose. They are small and are not connected to anything. In this case, the linkage between your ears and your head is not strong enough. If you're not careful, they'll come out of your ears at any time. Wireless Bluetooth gadgets have made our lives easier since, well, cables are a pain to deal with. When we run or reach for something, our own arms might pull earbuds out of our ears.
Enabling the "Find My" app on your device
It is necessary to activate the "Find My" feature to locate your AirPods. You may verify whether your account has been activated by going into the Settings menu and selecting your name. Tap "Find My" and make sure it says "On." If it reads "Off," move the slider next to "Find My iPhone" to the right until it says "On" again. iOS 13 or later should have this functionality enabled by default. There is no way to use this feature if your iPhone doesn't have iOS 13 or later, so you can't do this. So, you need to make sure that your device is running the most recent OS version to use the app.
Find your lost AirPods: effective methods.
1. Locate your AirPods using a map
The Find My app might help you find your AirPods if you use it on an iPhone, iPad, iPod touch, or Mac with the same Apple ID. Take these steps:
Download and install the most recent version of iOS, iPadOS, or macOS.
Select the Devices tab in the Find My app after launching it.
You can click on the AirPods in the list of devices. Or, you can click on the AirPods image on the map.
Make sure you click on the Play Sound option to hear where your AirPods are. You may also choose the "Directions" option so you can find your AirPods on your own.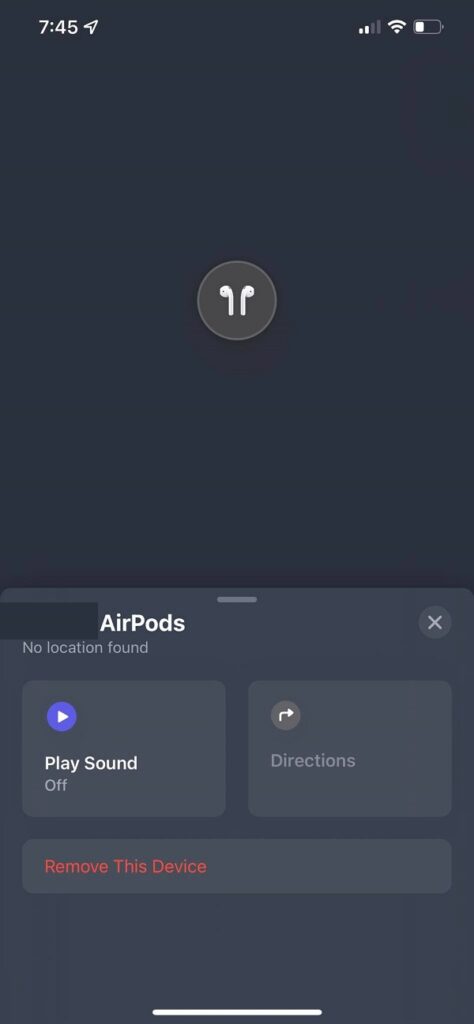 Using "Find My" on iCloud.com, you may locate your AirPods from your computer.
2. Use iCloud to find your AirPods
If you lost your AirPods, you might be able to find them by going to the iCloud site. Take the steps below.
On your computer, go to the iCloud find page.
Log in to the Apple account that is linked to your AirPods with your password.
Using the "Find My iPhone" function, you may start a search for your lost iPhone. Although you'd want to look for your AirPods, that is exactly what you should do.
Unless you have an iPhone that is turned on, the page will claim that all devices are offline. Make sure that you choose "AirPods" from the list of all devices.
You'll be able to see the location of your AirPods on a map if the search is successful. As long as they're connected to your iPad or iPhone, they'll show up as a green dot. If you see a gray dot next to someone's name, it implies they are not online.
Click on the green dot if your AirPods have been discovered. As soon as the window opens, click on "i."
Play Sound: Click on "Play Sound." People who do this will hear a loud noise from their AirPods.
On either the left or right airport, you can mute or turn off the sound. You can use this if you've only lost one Airpod and you want to find it.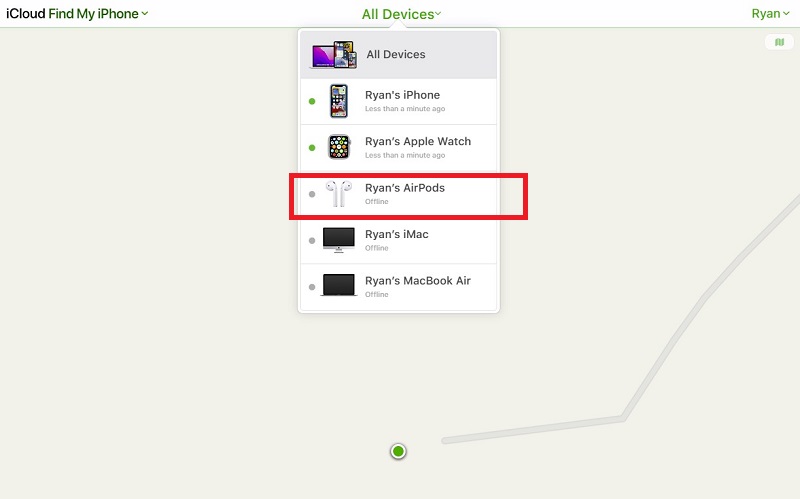 3. Use the "Find My" app to locate the lost AirPods
It's possible to use the "PlaySound" function if you drop your AirPods while they're out of their case and they're still charged. Take these steps:
Go to the Find My app and choose it. In the Devices tab, make sure you're on the AirPods list. Tap on them.
To hear the sound, press "Play Sound." This will only work if your AirPods are within range and not in their case.
You'll have the option of having the sound emanate from the left, right, or both AirPods.
When you find them and want the annoying noise to stop, press the stop button to stop it.
Find an AirPods Case: A Quick Guide 
Find the case for your AirPods by following these simple steps:
Enter the code "findmyiPhone" into the search bar of the Find My iPhone app on your iPhone.
When you look at the list of devices that you've paired with your iPhone, look for the option that says "AirPods." Click it.
Keep an eye out for green lights next to the name of your AirPods to see if they work.
If a green dot appears, it indicates that the case is close by.
Your AirPods case may be missing if you notice a grey dot in its place. Grey light means that it is not in range.
Track your AirPods by following the music by pressing the play sound option on your AirPods.
Tap the car icon if you're offline to see where your AirPods were last seen.
How not to lose your Airpods
If you lose your AirPods a lot, these tips will help you avoid that happening again:
Turn on the "find my phone" feature.
Wire your AirPods.
In this case, use ear hooks.
When you're not using them, put them back in the case.
Keep your case in one or two places.
You may choose an anti-lost cover or a colorful case cover.
Athletic tape
It's necessary to develop a sense of caution.
Wrapping up
The chances of you losing your AirPods are very high, but you can use the methods that were given to find them. People who use Apple products say that their products are pretty important to them, so Apple created "Find My" to help people find their lost devices. You can also keep our tips for not losing your AirPods in mind, so the chances of you misplacing them are reduced.