Every day, iPhones get lost or stolen. Fortunately, Apple has a lot of tools built into iOS that will keep your data safe and make your phone inoperable if it's lost or stolen. In these cases, knowing how to find your lost iPhone with an Apple ID is very critical. Although Apple's Find My Service has grown rapidly in the last few years, the company has made significant additional improvements since integrating Find My iPhone and Find My Friends in 2019. When iOS 15 was released in September, one of the new features was the ability to track your iPhone even when switched off.
Before doing anything further, make sure you've set up a passcode. As a result, even if someone does manage to take your phone, they will not be able to access a goldmine of sensitive personal information. To give yourself the best chance of recovering your iPhone, let's also activate the Find My Phone feature.
The very first thing you should do is:
The first and most important thing you should do is safeguard your private data. Your iPhone is entirely secure as long as you have a password on it. To make sure your phone is safe, use Find My iPhone to lock it and set a passcode even if you don't. At the very least, this will prohibit the offender from using your phone while on the run.
You can delete the iPhone's data remotely if you cannot recover the device or if it contains sensitive information. Although deleting data may not prevent the thief from using your iPhone, it will at the very least prohibit him from having access to your personal information once you have deleted the data.
Your company's IT staff may also be able to remotely remove the data on your iPhone if it was provided to you by your employer. To find out what choices are available to you, contact the helpdesk at your firm.
Your iPhone's lock screen is an excellent place to start
The most effective form of protection is to use a lock screen on your iPhone. If you have an iPhone X or later, you may set up your lock screen using a passcode by following the procedures outlined below:
1. As the first step, select "Face ID & Passcode" from the "Settings."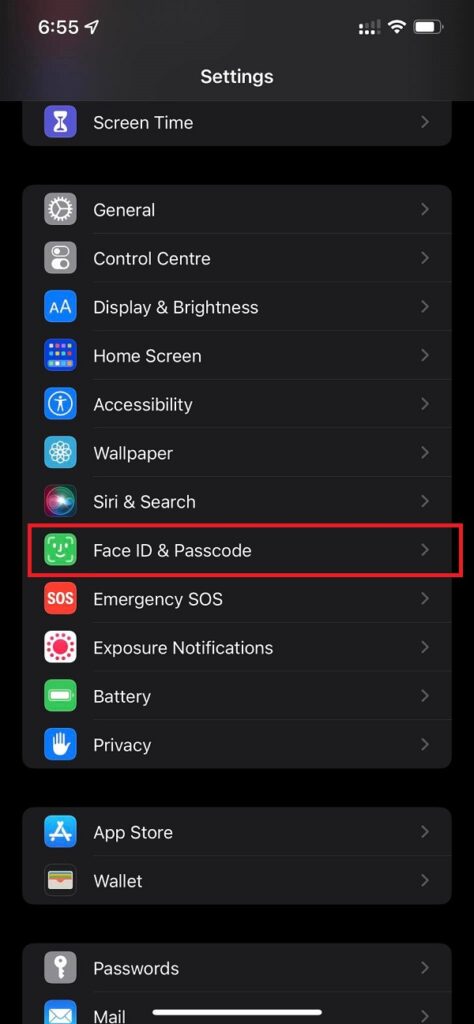 2. Go to "Settings"—>"Touch ID & Passcode" on earlier iPhones. Or, if your phone does not have Touch ID, go to "Settings"—> "Passcode."
3. Tap on "Turn Passcode On" after you've entered the passcode.
After that, enter your six-digit passcode and follow the on-screen instructions to complete the process.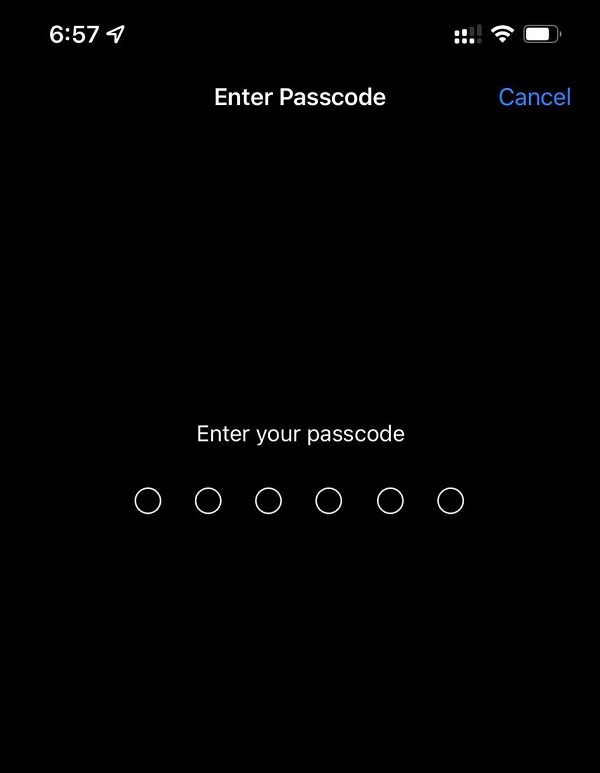 On the iPhone X and later models, you may use face recognition in addition to a password to unlock your lock screen to simplify the unlocking process. Follow these steps to do this:
1. The first step, in this case, is the same: you must choose "Face ID & Passcode" from the "Settings."
2. Select "Set Up Face ID."
3. Place your iPhone in front of your face.
Select "Get Started"
From this point forward, you will be guided through the process of mapping your face for facial recognition by the app.
If two-factor authentication is available on any of your applications, you should always use it to increase the level of security.
Related: How to Use Face ID to Sign Into Apps On iPhone
Ensure that Find My iPhone is turned on on your iPhone
Immediately after creating a passcode, please double-check that the Find My feature is enabled. The feature ought to be enabled by default, and disabling it would require a deliberate effort on your part, but it never hurts to double-check things now and again.
Open the Settings app on your iPhone and choose your name from the drop-down menu at the top of the screen. Following that, select "Find My" or "Find My iPhone." If you want to find your phone, make sure that the switch next to "Find My iPhone" is on. While you're there, ensure the buttons next to "Find My Network" and "Send Last Location" are on too.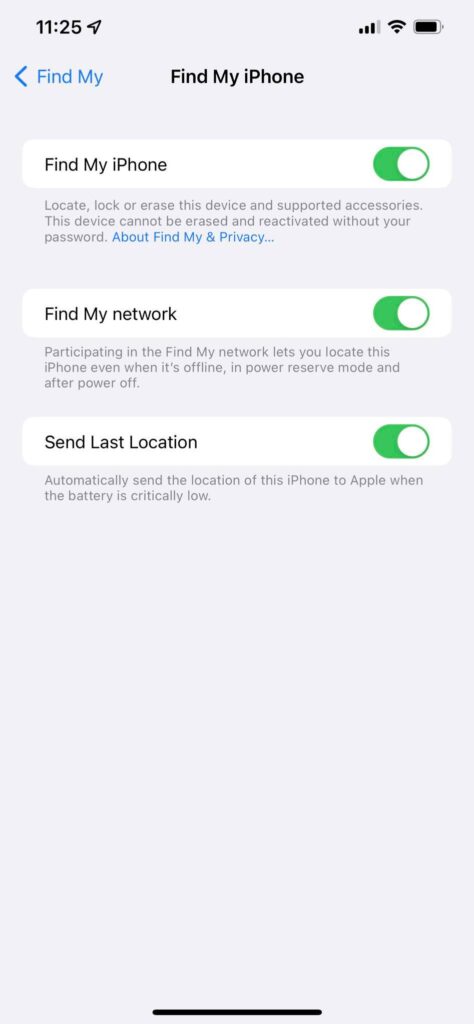 Remember that Apple's Find My Network will crowdsource the location of a device that has been marked as lost? Apple will utilize the Find My service on any iPad, iPhone, or Mac to find your iPhone, even if it is not connected to the internet. If you lose your iPhone and designate it as missing in the Find My app. The device owner will be completely unaware that they are assisting you in your search for your misplaced device.
Find a device using the "Find My iPhone on iCloud.com" feature
The procedures below will assist you in determining the approximate location of your lost iPhone.
Step 1. In your browser, go to iCloud.com and sign in.
Step 2. Log in to iCloud.com (you will have to use your Apple ID and password.) Use the Apple ID from iCloud to sign in to Find My iPhone. Otherwise, you can't use Find My iPhone because you can't sign in with the same Apple ID you used for iCloud.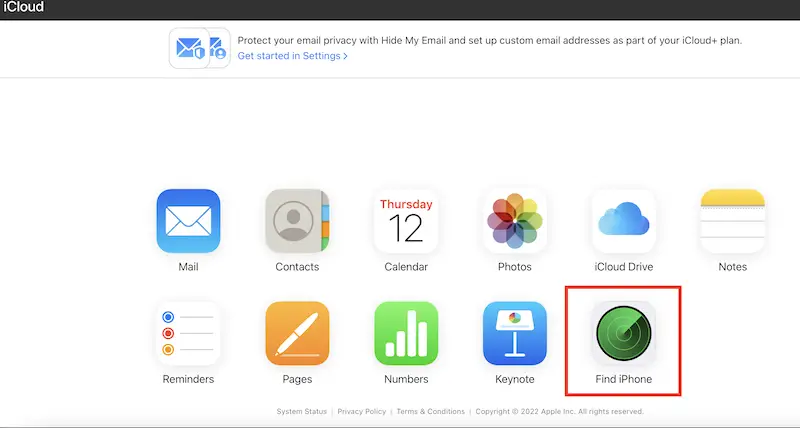 Step 3. To get a list of all available devices and their current states, choose "All Devices."
Step 4. An app may help you find a device if it has a green dot next to it, indicating that it is online and accessible. You will also be able to see when it was most recently located.
There is a gray dot next to the device, which means it is offline. It is either turned off or not connected to a network. "Offline" will be shown on the device's status bar if it has been offline for more than 24 hours. This information will appear if the device was recently connected to the internet and the time when the device was last found.
Step 5. Choose the device that you wish to track down.
Step 6. Using the approximate location shown on the map, you will be able to find your device if it is connected to the internet. The last known location of your iPhone will be shown for up to 24 hours if Find My iPhone cannot find your device.
Email notification 
If you want to get an email notification when your device reconnects to the internet, check the box that reads "Notify me when found."
The Find My iPhone app may perform any of the following operations: update the location; move the map; zoom in and out, and change the map display.
After clicking on the green dot on the map, choose Refresh to bring up a new map with the current location.
Simply drag the map to the desired spot to make it move.
To magnify the graphic, click on the Zoom in (+) button.
Use the Zoom out button on your keyboard (+) to zoom out.
The current map view, such as Standard, may be changed by clicking the current view in the bottom-right corner, followed by the view you prefer.
Wrapping up
Additionally, you may use another iOS device to track down the whereabouts of your misplaced iPhone. Data collection services offered by third parties may result in maps and location information that differ from one another. All of these services are subject to change at any moment, and they may not be offered in all geographic areas. Because of this, some of the information provided on the Find My iPhone apps, such as maps and location information, is erroneous or incomplete.