Connection speeds are much faster with 5G technology. However, although support for this high-speed network is becoming more widely available, there are still many areas where 5G is not readily available yet.
It boils down to balancing your requirements. When downloading a full-length movie, faster connection speeds, although not essential for browsing through your Twitter feed, might be quite useful. It is entirely up to you how you choose to take advantage of the iPhone's 5G capabilities. And Apple has made this approach both flexible and simple. 5G is enabled by default on Apple's iPhone 12, with a Smart Data Mode that balances network speed with battery life to provide the best possible experience for users. But you also have the option to turn it off. Learn how to turn off 5G on the iPhone in this post.
How to determine whether or not your phone is 5G compatible?
You should be able to connect to 5G before you can turn it off for any reason. It is necessary to be in a location with 5G coverage and have an appropriate device and a data plan that is compatible with this faster network. A simple online search for your phone's specifications or a phone call to your carrier could clear things up if you're not certain you've got what it takes to succeed.
At the time of this writing, the iPhone models that can use the new 5G network are the iPhone 12 Mini, the iPhone 12, the iPhone 12 Pro, the iPhone 12 Pro Max, and the iPhone 13. The iPhone SE and iPhone 11 don't have the same 5G capabilities.
Why would you want to turn off 5G on your iPhone?
Faster speeds and a more stable connection should be available if your carrier provides 5G coverage in the area where you live or work. However, this isn't always true. The iPhone may switch back and forth between LTE and 5G, stopping sending messages or updating your favorite apps. You may also notice that the battery life isn't the same as it is on LTE.
Regrettably, you may not have the right pricing plan to access 5G. And in some cases, users may not choose to level up. This means that 5G may not be the ideal solution for you just now.
How to turn off 5G on your iPhone
You may turn off 5G on an iPhone at any moment with a few simple clicks from any device. Here's how it's done:
1. On your iPhone, go to the Settings app and select Mobile.
2. Click "Mobile Data Options" from the drop-down menu.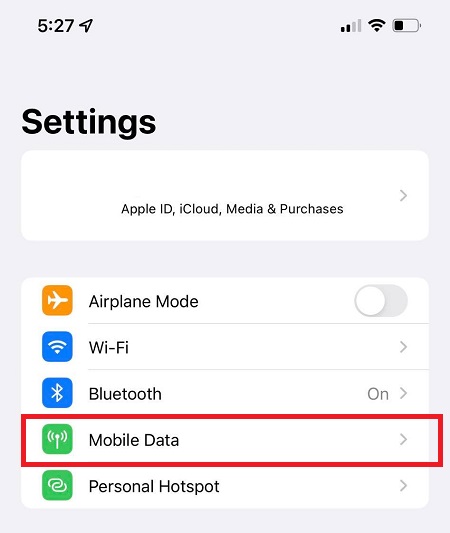 3. Tap Voice & Data.
4. To keep 5G turned off at all times, click 4G.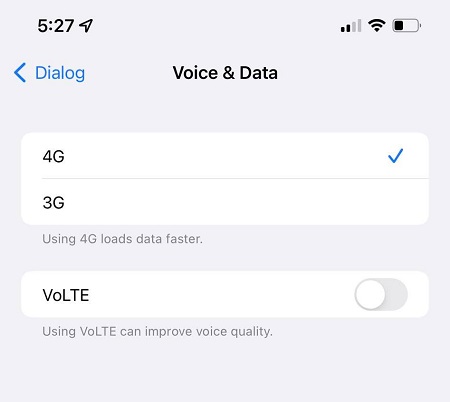 Choosing 5G Auto may be a better option if battery life concerns you. With this choice, you can benefit from 5G speeds for most of your time. But if your battery is running low on power, it will convert to 4G speeds instead.
To return to the Mobile Data Options screen, choose Data Mode from the drop-down menu. You may further modify your iPhone's data use while connecting to 5G networks and when connecting to lower-speed networks from this screen.
LTE may be shown instead of 4G depending on your cellular service provider. Selecting this option will achieve the same result as deactivating 5G.
The iPhone 12's default 5G settings or Smart Data options are available
In addition to the 5G Auto mode, Apple's new Smart Data Mode in Settings > Cellular > Data Options > Data Mode has been designed for the 5G era.
Knowing that you only require 5G speeds while streaming or downloading anything, Apple has included an additional 5G option to control data on the iPhone 12: 5G Data Management Settings.
Allow more data on 5G: You can FaceTime, stream high-definition video, or download iOS upgrades via the 5G network with this one.
Standard: You will have the automatic update function when you choose Standard. But you will lose the ability to use FaceTime and video streaming in high definition.
Low Data Mode: All automated updates and background processes are suspended to save your limited data allowances for the duration of the Low Data Mode.
How to reestablish your iPhone's 5G connectivity
Okay, so you've changed your mind and have chosen to use 5G once again. Or, you might be in a place where 5G is readily available and very fast. Therefore, you may reactivate 5G in the following manner:
To begin, open the Settings app and then click "Mobile Data" from the drop-down menu.
Select "Mobile Data Options" from the Mobile Data menu.
Tap "Voice & Data" on the following screen.
Select one of the two choices available to you to activate 5G on your iPhone at this point. 5G on and 5G auto are the two choices available. When you choose the "5G on" option, your iPhone will remain connected to a 5G network for as long as one is available, even if the network delivers speeds that are equivalent to those of a 4G or LTE network. With "5G Auto," your iPhone will use the Smart Data functionality and connect to a 5G network if it provides faster speeds and more connections.
Wrapping Up 
Even though 5G is one of the most important technological developments to watch for in 2022, it is not yet readily available in some parts of the world. And it is at this point that you will need the answer to the question "how to turn off 5G on the iPhone." You may turn off and on 5G on your iPhone anytime you like, using the thorough instructions given in this article.