A reverse image search is an option offered by google which makes searching for images very easy. By doing a reverse image search we can search using an image of an object rather than searching for words or phrases. As an example, if you do not know a name of a flower in your garden you can take a picture of it and do the reverse image search to find the name of the flower. This cool feature is available for both iPhone and Android. In this article, let's have a look at how to reverse image search on iPhone using google and apps.
How to reverse image search on iPhone using Browsers.
You can do the reverse image search using web browsers installed on your iPhone. Safari is the default browser that comes with iPhone and iPad. Other than that you can install Google Chrome, Mozilla Firefox, and other browsers which are available in the apps store. Using one of these browsers you can do the reverse image search quickly. However, you can only use images that are available on websites for the image search using browsers. We recommend for you to use google chrome to do the image search.
Open the browser.
Go to the website where the image is located.
Tap and hold the image.
Click on "Search using google lens", or "Search Google for this image".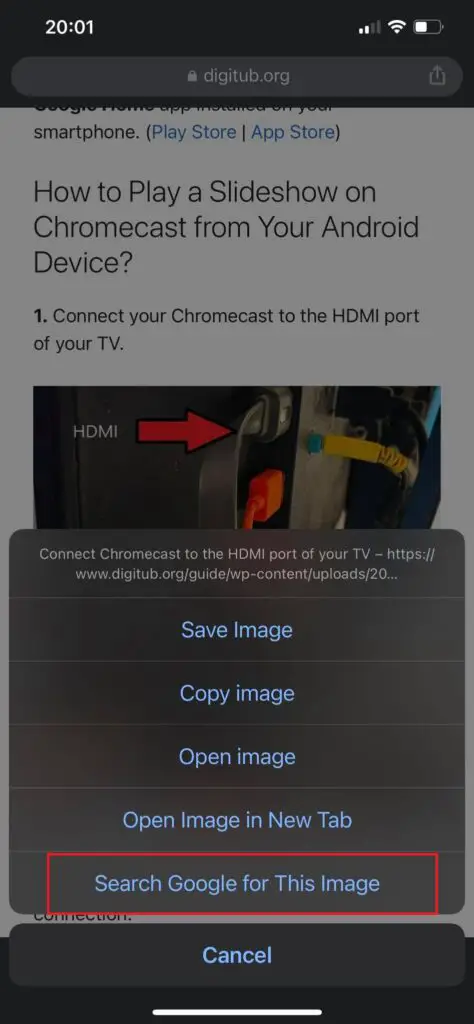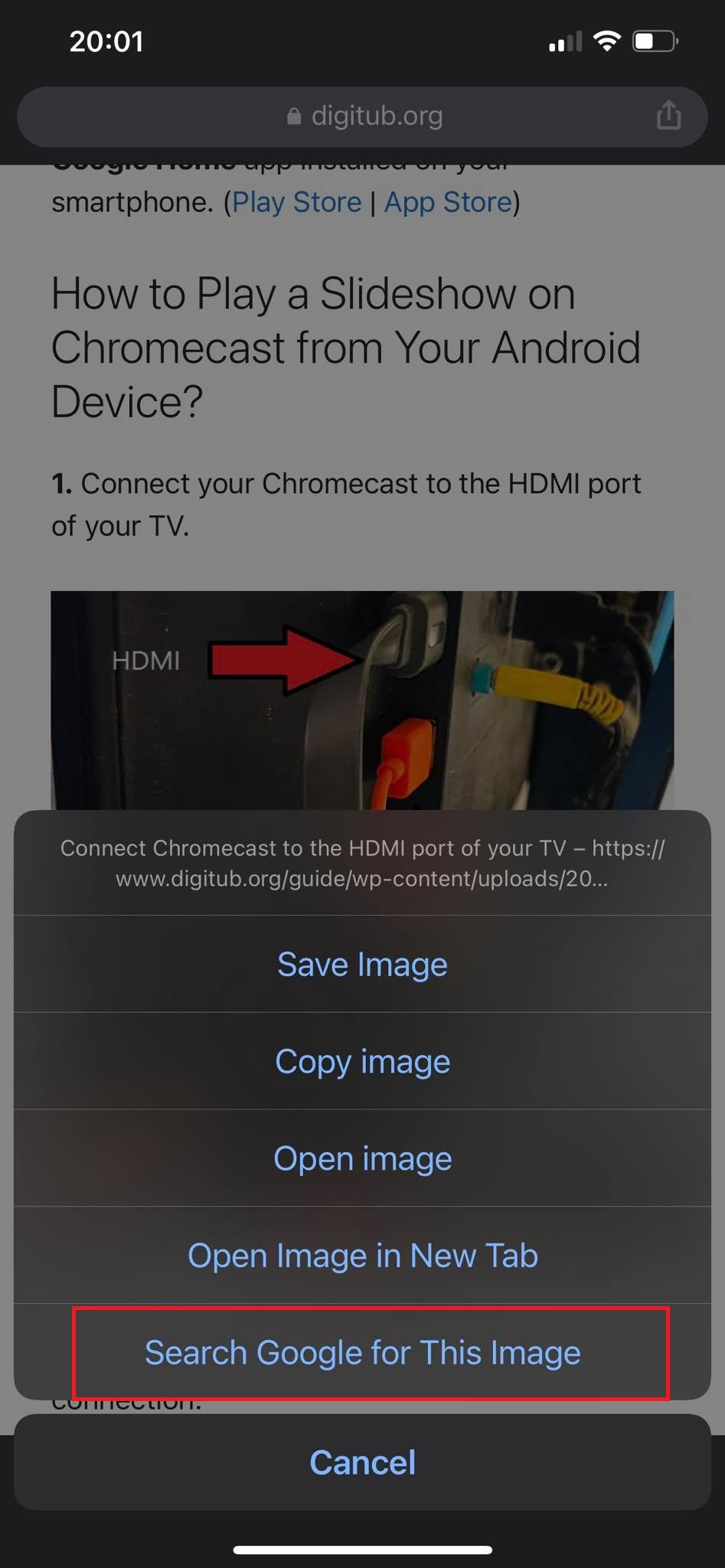 You can do something similar with the search results in google.
Go to google.com and enter the search phrase you want.
Click on the images tab to see the image search results.
Select the image you wish to reverse image search and click on the lens icon on the top right corner.
The search results will give you not only visually similar images but also a description of the object you are searching for. As an example, if you use an image of a car to reverse image search google will give you information about the model of the car.
Tip : if you go to images.google.com , you can search directly for images only. You can enter a search phrase on the search tab and google will search for the images which matches the search phrase.
How to reverse image search using images saved in the device
Now if you want to search using an image saved on your device, you will need to use the Google lens feature in your iPhone. Google lens is a feature that comes with the google app that has lots of capabilities. It can not only be used to do reverse image search but also it can be used for document scanning, text extraction, translate text from one language to another, and more. In iPhone, we can upload an image to google lens and get search results after doing a reverse image search.
Open the Google app on your iPhone. This app has the google logo as the app logo.
In the google search bar, there is a camera icon that opens the google lens feature. Tap on it.
Now you can either take a photo to search or upload an existing image to search. If you want to take a photo just point the camera at the object and tap the Lens icon. Otherwise, you can click on the photo icon to open your gallery.
After taking or uploading the photo, select the Lens icon on the bottom right corner to select a specific object or area in the picture to search.
The results will be shown under the image.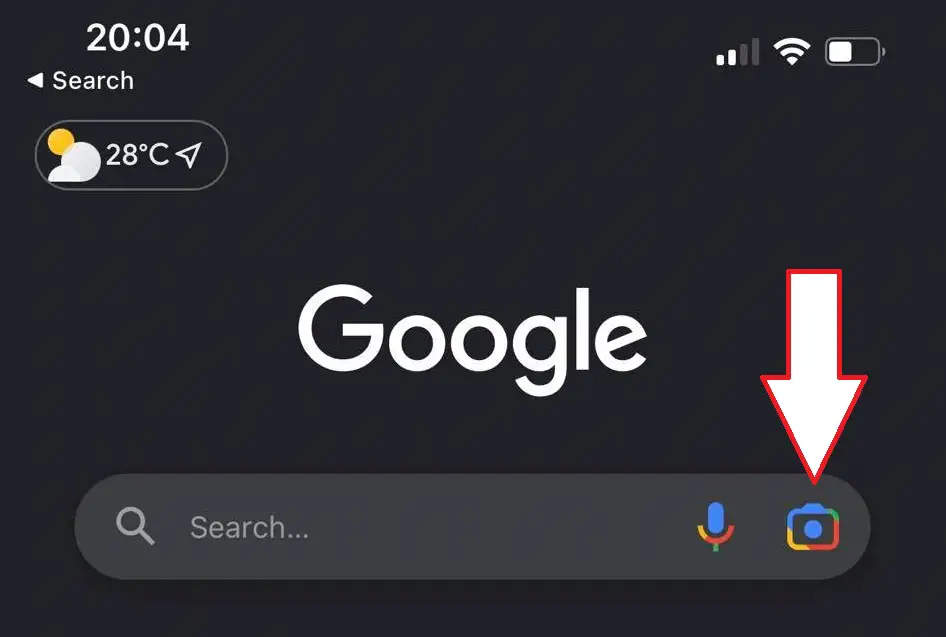 Now you also can specify which type of results you are searching for using the image. If you tap on the icon on the bottom left, you can select options such as "Places", "Shopping" etc. If you select one of these options, Google will show you related results to those areas.
How to reverse image search on iPhone using other apps and websites
Other than web browsers and google app, several apps can be used to do a reverse image search on iPhone. These apps could be downloaded in the apps store and some of them have more extended features. Some of the websites also have an image search feature. Let us take a look at some of these apps and websites.
Tineye.com
Tineye is a popular website that searches through almost 50 billion images to get results. Just go to the Tineye website from the browser and click on the upload button to upload an image. Or you can paste the URL of the image if the image is available on the internet.
Reverse image search app
Reverse image search app is an iPhone app that is available in the apps store. This is a free app that you can download and it provides you many search options such as search by files, image URLs, clipboard images, etc. It also maintains a search history in the app itself so you can access the previous search results later.
Reversee
The reversse is another iPhone app that can be downloaded for free. The specialty of this app is that you can select multiple search engines to get results when you use this app to search for images. The app will show you all the results from the search engines you have selected and this gives you the advantage of widening your search through several platforms.