Many thousands of individuals use Snapchat as their preferred social media platform, and the Apple Watch is a great technological device in its own right. So, what if we could combine these two elements? Yes, many consumers have already looked into this, which is why they turned to the experts for advice on "how to get Snapchat notifications on Apple Watch." But don't worry if you aren't receiving Snapchat notifications on your Apple Watch since we can assist you.
As a result of restrictions in settings, the Snapchat app can sometimes send notifications on the Apple Watch. But you can simply modify this from your device's settings and the Snapchat app's own settings. Please continue reading because we will offer easy strategies that you may follow to resolve this problem if you are also experiencing issues receiving Snapchat notifications on your Apple Watch.
Snapchat on an iOS device
With Snapchat, you may send videos, photos, text, and drawings to friends and family members through their mobile devices. As a "new kind of camera," the app is being marketed as such since its primary function is to shoot photos or videos, edit them with filters, lenses, or alternative outcomes, and then share them with others.
Regrettably, though, Snapchat does not directly support the Apple Watch. In fact, Snapchat doesn't even have an official Apple Watch application. It is now available for iOS devices. Nevertheless, it may not be available for WatchOS devices in the near future. However, a simple technique may be used right now to get Snapchat notifications on the Apple Watch.
How to get Snapchat notifications on Apple Watch: Step-by-Step Easy Procedure
If you want to get Snapchat notifications on your Apple Watch, this is the easiest option. It's as simple as A, B, and C to complete the outlined instruction:
1. Check to see whether Snapchat notifications are activated in your iPhone's Settings > Notifications > Snapchat. You may need to activate "Sounds."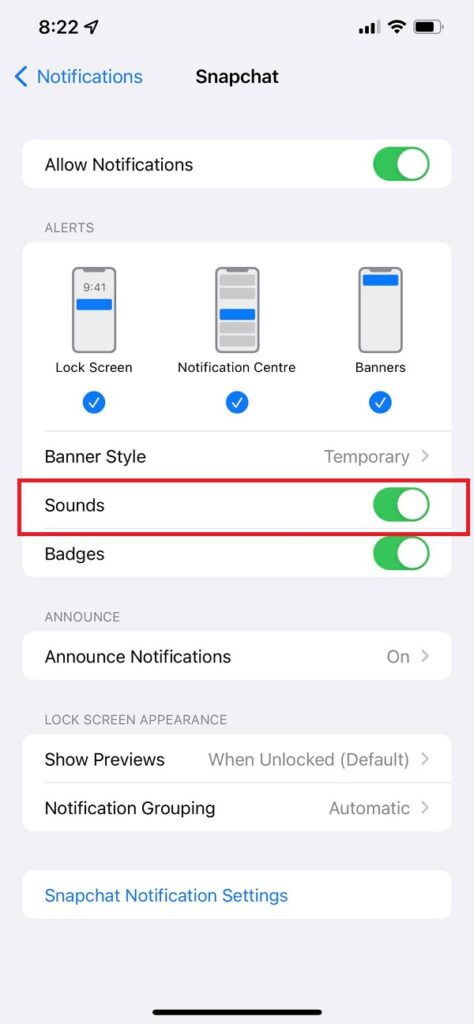 2. If it isn't already turned on, open the Snapchat app, swipe down, click Settings, then Notifications, and confirm that it is.
3. Go to Settings > Notifications > "Mirror iPhone alerts from:" in the Apple Watch app for further information. You'll find a list of all the notifications-enabled applications in this section. Allowing notifications for any app, including Snapchat, implies that any app that supports them will be mirrored.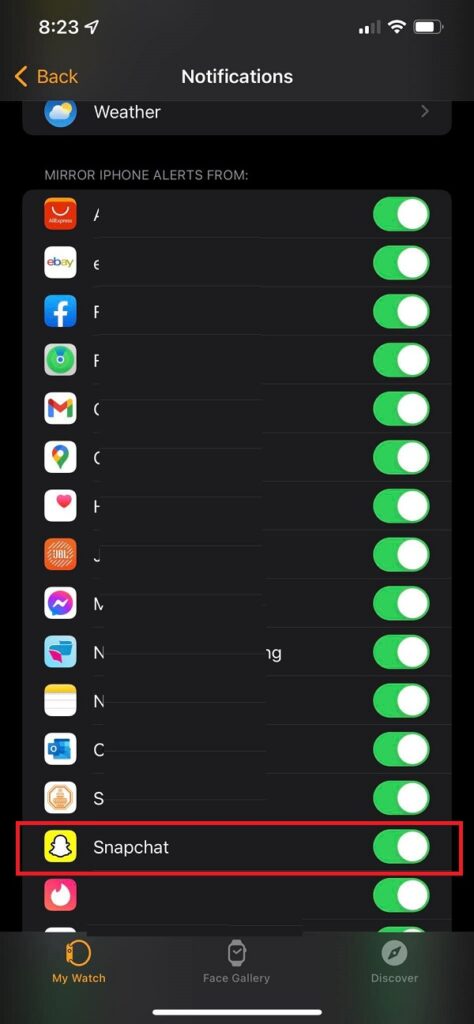 Your Apple Watch or iPhone will get notifications, but not both at the same time. These notifications will be sent to your iPhone instead of your Apple Watch if your iPhone is not locked at the time. Your Apple Watch will notify you about Snapchat activities if your iPhone is locked or sleeping unless your watch is secured with your password.
What can you do if you are not receiving any Snapchat notifications on your Apple Watch? 
Check if your Apple Watch notifications are being blocked if you are not receiving Snapchat notifications on your wrist. If you have an iPhone or an Apple Watch, you can check the permissions for notifications under the Notifications area of the settings on your device. Additionally, ensure that notifications are enabled inside the Snapchat application.
In the event that you have checked all of the above settings and are still not receiving Snapchat notifications on your Apple Watch, it might be due to one of the following issues:
1. Bluetooth Connection
Because it cannot get notifications from your iPhone until it is linked to it through Bluetooth, your Apple Watch will not receive them. It is also impossible to send notifications if the phone is more than 100 meters away from the watch. Consequently, be sure that your watch is linked to your phone and that both devices are close to one another.
2. Outdated applications or operating system software
If your Snapchat app or Apple Watch software is out of date, it may begin to exhibit issues. To avoid this, make sure that your Snapchat app and both devices are running the most recent version.
If the problem remains despite your efforts and you have exhausted all other options, the last step is to uninstall the Snapchat application and restart your Apple Watch and iPhone. Also, be sure you clear the cache on your device.
How can I turn on Snapchat notifications?
By launching the app, you may access the Settings app. Click on the Notifications icon to enable notifications. By selecting an app from the Notification Style drop-down menu, you may customize its style. Allow Notifications may be turned off by tapping the toggle button at the top of the screen.
Wrapping Up
Snapchat is used by millions of individuals every day throughout the world, and a significant proportion of those users also own an Apple Watch. And it is, for this reason, the question "how to get Snapchat notifications on Apple Watch" has sprung up. The technique discussed in the article may assist you in achieving your goal. Additionally, the troubleshooting approaches will assist you in addressing difficulties.