This article discusses the "unfortunately, android.process.acore has stopped" error that occurs on Android devices nowadays. Many users have previously encountered this error and are looking for the best solutions to fix it. Everyone knows that no operating system is error-free, and the Android OS is proof of this.  We mention this because many Android users face a variety of problems on a daily basis when using their smartphones.
When it comes to Android and its stability, there is no room for a second question since it is widely regarded as one of the most popular and reliable operating systems in the whole world. Even though it is well-known, there are still problems that cause outrage.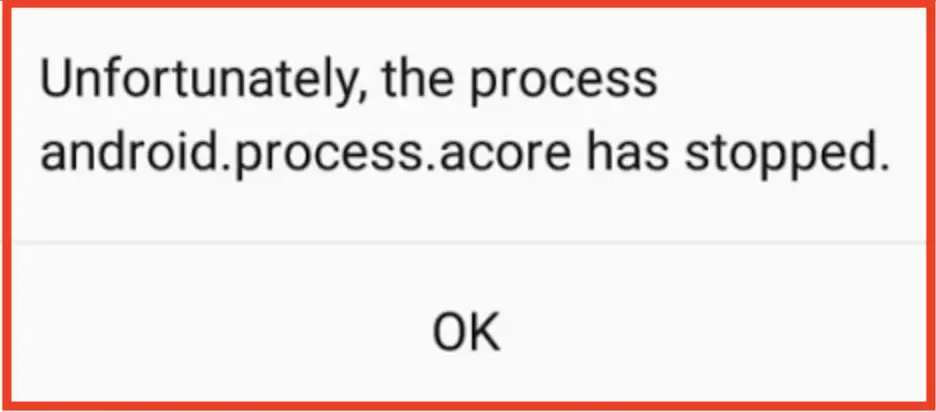 What is the "unfortunately, android.process.acore has stopped" error?
These errors are common and may be caused by a wide range of factors. Having a corrupted file in your contacts' cached data is by far the most typical root cause of the problem. Files may be corrupted for a number of reasons, such as when an operating system or firmware upgrade fails.
Among the other probable causes are an abrupt termination of your synchronization procedure, a lack of sufficient storage space on your device, your computer crashing, or a destructive virus infecting your device. No matter how unexpected and unavoidable the majority of these issues are, it is essential to keep them in mind at all times. Before using any of the procedures outlined below, be sure to create a backup of your data. A backup will ensure that your vital data is never at risk of being lost.
Quick fixes to the "unfortunately, android.process.acore has stopped" error popup message
Even though this issue is rather common, there are a variety of solutions available to correct it. What you have to do is as follows:
1. Install the most recent version of the Android operating system
It's possible that the error message you're experiencing is related to an outdated Android operating system version. As a result, you must upgrade the operating system on your device in order to avoid this issue. Using this method, you may determine if your Android operating system has received any upgrades.
Navigate to the "Settings" menu and then to the "About" screen.
Select the "Software update" and "Check for updates" options from the drop-down menu.
If there are any new versions available, you should now upgrade.
Finally, let the phone restart on its own.
2. Clear the App Preferences
When you reset your app preferences, all of your applications will be restored to their original settings. Any deactivated apps will be immediately enabled. It is possible that disabling a key system app can cause certain functionality on your phone to malfunction. And this results in the popup of the "android.process.acore has stopped" message. Because you may not even be aware that you have mistakenly disabled an app, it is a good idea to reset your app settings as a precautionary step. Here's how to restore your app's default settings:
As the first step, go to the Settings menu.
Select Apps & notifications to see all the applications on your phone
In the upper right corner, hit the three-dot menu option.
Select "Reset app preferences" from the drop-down menu.
To confirm, press the reset app button.
3. Perform a force restart
When you get the "Unfortunately, android.process.acore has stopped" error message, the quickest and most straightforward solution is to perform a force restart. A forced restart is pretty different from a standard restart.. It makes your device shut down all of its running applications and restart itself. Also, be sure to clear the cached data of any particular applications that may be able to assist you in solving the problem. The following is how to force your phone to restart:
You must keep pressing and holding the power button until you detect a vibration.
You must continue to hold down the power button until the Android logo displays on the display screen.
Wait for the boot to complete, which might take a few more seconds.
Check your contacts to check whether the problem has been resolved.
4. Disable the synchronization with Facebook
On your Android device, Facebook and other social media applications continue to sync your contacts between your Facebook account and your mobile phone. Your device may display the message "Unfortunately, android.process.acore has stopped" as a result of this Facebook sync.
Double-check to see that the Facebook sync is turned off. While this fixes the issue, it also prevents Facebook from obtaining your contact details. Here's how to go about it:
On your Android phone, go to the Settings menu.
Navigate to the Accounts section.
Turn off Facebook account sync by going to Facebook > Account Sync and selecting it.
In a similar vein, go to Messenger > Account Sync and turn it off.
Check to check whether the problem has been resolved by restarting the device.
5. Delete all of the application's cache files
You may repair errors caused by some applications by clearing the cache of the app in question. To clear the cache that has built on your smartphone, follow the procedures outlined below:
Go to the Settings menu on your phone. Then choose either Application Manager or Installed Apps, depending on which option is available on your device.
Navigate to the bottom of the application list until you find the specific application that is creating problems.
The option to "Clear Cache" will be shown when you click on the application's icon. Simply click on it.
The preceding step will clear all of your cache.
Restart the phone to complete the process.
6. Delete the cache for the system partition
Unfortunately, the Cache on the Partition System is occasionally the cause of the Process Android.Process.Acore Has Stopped Error on Android devices. It is also not enough to just clear the cache of the individual applications or contacts to get things to function. Follow the procedures below to see whether you can clear the cache of the partition system.
Turn off your Android mobile phone.
Now, press and hold the Volume Up, Home, and Power keys all at the same time for a few seconds.
The Android System Recovery page will then display on your screen.
To navigate up and down the menu selections, use the Volume buttons (Up and Down) to scroll up and down the list until you reach the Wipe Cache Partition.
As the last confirmation of this, press the power button.
If clearing all caches, including the System Partition Cache, doesn't fix the problem, we've got a couple of additional options for you. Take a look at these.
7. Reset your Android smartphone to its factory default settings
If you are experiencing the Acore Has Stopped Error and none of the solutions listed above have worked for you, you might consider resetting your Android device to factory settings. However, we would advise you to save this as a last resort for the time being. Resetting your Android smartphone should only be done when nothing else works, since it may result in the loss of all your information and data. Take the actions that are outlined:
If you have any data, information, or contacts stored on your device's internal memory, you should first back them up.
Go to the Settings menu on your phone and choose Backup and Reset from the menu.
Then, in this section, look for the words "factory data reset"
Now choose "Reset device" from the drop-down menu. Your device will be reset to its factory default settings. Will have to just follow the on-screen directions to complete the process.
Then, when you turn on your smartphone, start the start-up procedure. Now, all of your previously backed-up contacts will be recovered. Other data may be restored, and the app itself can be reinstalled, by visiting the Google Play Store.
8. Log out of your Google Account and log back in
If there are any inconsistencies between your Google account and your contacts, this might be the root cause of the error message. If you are experiencing problems, removing and re-adding your Google account is a simple remedy.
It's possible that by removing and then re-adding your Google account, you'll be able to eliminate any faults that may have been present and download any new software upgrades that may have been missed. The following are the steps to delete your Google account:
Navigate to the Settings menu.
Select Accounts from the drop-down menu.
Choose your Google account
Select "Delete account"
To re-add your Google account, go to the bottom of the page and click Add account. You'll be able to access your Google account after you've entered your login information. In the event that you have previously synced any data, the app will now re-sync everything, which may take some time.
Wrapping up
These are some of the most common methods for resolving the "android.process.acore has stopped working" error on Android devices. We hope this information is useful in resolving the annoying pop-up issue on your phone. If none of these fixes didn't resolve the error, you might need professional help.