To say that many new Windows 11 beta users are searching for answers to the question "how to go back to Windows 10 from Windows 11" is a bit of a downer. And some users didn't like the new version over Windows 10. It is, however, still possible to downgrade your operating system to Windows 10 without losing your data after you have upgraded to Windows 11. For those experiencing difficulties or who are not yet ready for the new operating system, this going back process is the safest option to consider.
Using the recovery options, it is possible to complete the procedure. The only catch is that you may only use this feature for the first ten days following the first update. When Windows 11 has completed this time, it will begin deleting old data from the hard disk to free up space for more vital files.
In addition, it is essential to note that specific applications may need to be reinstalled once Windows 11 has been uninstalled. Additionally, some of the previously defined options may be lost when you upgrade to the new version.
How to Go Back to Windows 10 from Windows 11 after 10 Days
Rolling back to Windows 10 is only possible within ten days of installing Windows 11, after which your previous system data is permanently deleted and cannot be recovered. Consequently, consumers who have been using Windows 11 for a few weeks may discover that Windows 11 has returned to its previous state of not operating. But the steps given below will save your day:
1. The Media Creation Tool may be downloaded from Microsoft's official website and then run.exe.
2. If you are prompted to agree to the terms of the software's license, choose "Accept."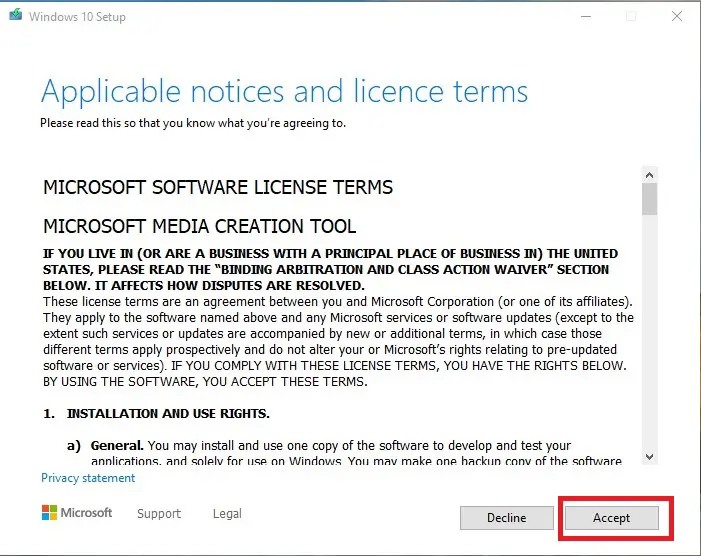 3. Select the "Upgrade this PC now" option in the first Windows 10 Setup box that appears. Then hit the "Next" button.
4. Once again, press the "Accept" button.
5. Choose the "Nothing" option if you want to do a completely fresh installation. Then press the "Next" button.
6. After bringing up the Ready to Install window, click on the Install button to begin the installation. That's it.
How to go back to Windows 10 from Windows 11 (within the 10-day timeframe)
After trying out the Windows 11 beta for a few days, you may decide to prefer Windows 10. If this is the case, you're in luck. Within 10 days of installing Windows 10, Microsoft made it possible to revert to a prior version of the operating system. Take the following steps:
1. Type settings into the Start Menu to launch the Settings application. Your screen will now display the settings sections listed on the left side of your screen, and the selected section's configuration options are shown on the right side. Select the "Windows Update" option at the bottom of the left panel.
2. A list of configuration options will be shown on the right side. Select "Advanced Options" from the drop-down menu.
3. Scroll down to the "Additional Options" section on the next screen and click on the "Recovery" option.
4. The "Go Back" option, which is represented by a clock and an arrow symbol, may be found under recovery options. "Go Back" is on the right next to the option. Click on it.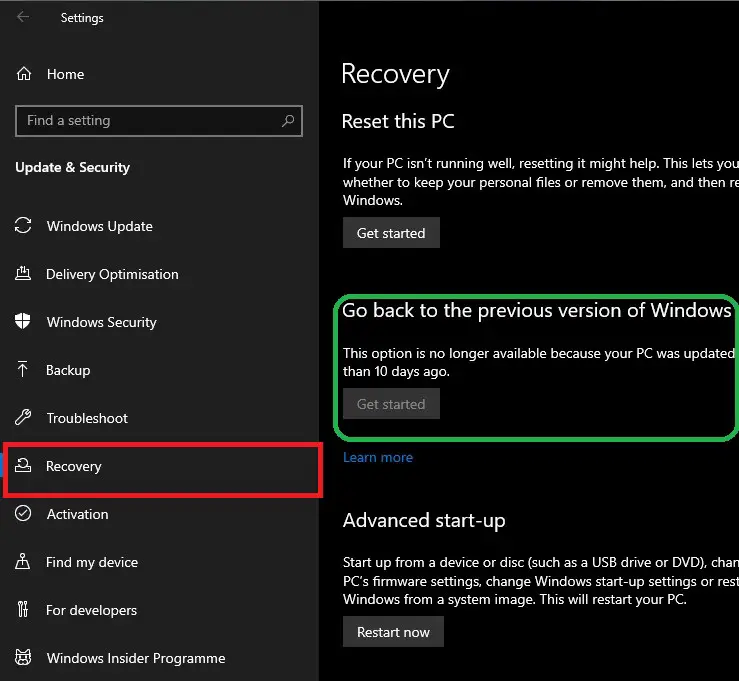 5. Unless you have the necessary files, you will see an error message reading, "We're sorry, but you can't go back." You'll need to manually download and install the Windows 10 iso file if you still wish to revert.
6. To go back if you have the necessary files, you'll have to walk through a series of Windows-generated prompts and cautions. You'll be asked why you're downgrading. If the pop-ups fail to convince you to change your mind, you should keep clicking on "Next."
The operating system will indicate that you may need to reinstall specific applications. Although it is not required, making a backup of your information is highly suggested if anything goes wrong. When you're finished, click on the "Return to Windows 10" button. And now, the procedure will begin.
A minimum of 10 minutes is required for the procedure to complete, depending on the speed of your hard disk and the quantity of data saved. All of your current settings and data should remain undisturbed. Still, it's a good idea to create a backup of your computer beforehand, just to be safe.

You may still upgrade to Windows 11 at any time if you so want
Users of Microsoft Windows 10 will upgrade for free to Windows 11. Minor bugs and glitches are expected to be present in the early versions, particularly in the beta releases, so please be patient. Suppose you do not choose to utilize Windows 11 as your primary operating system. In that case, you may need to dual boot the operating system with Windows 10.
Wrapping Up
So, those are the several methods by which you may revert to Windows 10 after upgrading to Windows 11. We understand that the 10-day removal time is inconvenient. But Microsoft removes the old files to keep your computer clean and responsive. A day might come when all Windows 10 users will be forced to upgrade to Windows 11. Until then, you can use Windows 10 as the primary OS.