In recent years, cloud drive services have taken over mobile storage devices like hard drives and USB flash disks because of all the benefits they offer – providing unlimited storage space online and keeping all documents in one place without fear of losing them if our devices are broken or lost. There are many cloud storage services available online, which we use to store our files like documents, photos, or videos that we don't want to lose or we want to share with other cloud drive users. But these services offer limited storage space for each free user, which we can increase the cloud storage commonly by purchasing additional space or upgrade the cloud account.
To save this expensive cost, we often switch from one cloud drive to another in order to store our files as many as possible. But how can we manage or transfer files within these clouds without manually downloading and uploading?
MultCloud is a simple and great solution to this problem. It provides a single web-based platform to manage, sync and transfer files from and to different cloud drive accounts for completely free. For example, if you have accounts in Dropbox and OneDrive, MultCloud allows you to migrate Dropbox to OneDrive, sync Dropbox to OneDrive, or transfer OneDrive to Dropbox without any extra time and effort.
What is MultCloud?


Access and Manage All Your Cloud Drive at Once
There are many cloud drives that are able to let you store necessary files, such as OneDrive, Dropbox, iCloud, Box, Google Drive, MEGA, Flickr etc. We often upload and store files on different cloud drives but actually don't know how to manage them in an effective and efficient way. However, there are many cloud management services available online, but we couldn't find anything comparable to this cloud file manager, MultCloud. This tool will help you manage, sync and transfer from one cloud drive to another and achieve some common functions which are the same as the functions provided by cloud drive servers.
To start using this excellent service, you may have to create your own MultCloud account and add all your cloud drives to MultCloud without any limit on the number of adding clouds. Instead of managing different clouds separately, you can use MultCloud as a hub and then transfer and manage all your cloud data in one easy-to-use place. MultCloud offers a simple, user-friendly interface that you don't have to be a computer expert to use it.
Greatly Improve Work Efficiency
MultCloud drastically cuts down on the process of downloading and uploading, letting you do the transfer tasks with only one click and manage all your cloud drives in one place. You can do your daily work and other necessary tasks without wasting days of your time. You can even use this platform to sync a group of accounts and make backups of all your important files among multiple locations. For example, using MultCloud, you can copy from Google Drive to OneDrive and sync both accounts so that important files are backed up safely in both clouds.
A Service that Can Be Used with Confidence
The main advantage of MultCloud is that it is a 100% secure platform with numerous security and privacy protections such as OAuth authorization system and 256-bit AES Encryption. You can sleep peacefully without worrying about the loss of data.
Features of MultCloud
Cloud Transfer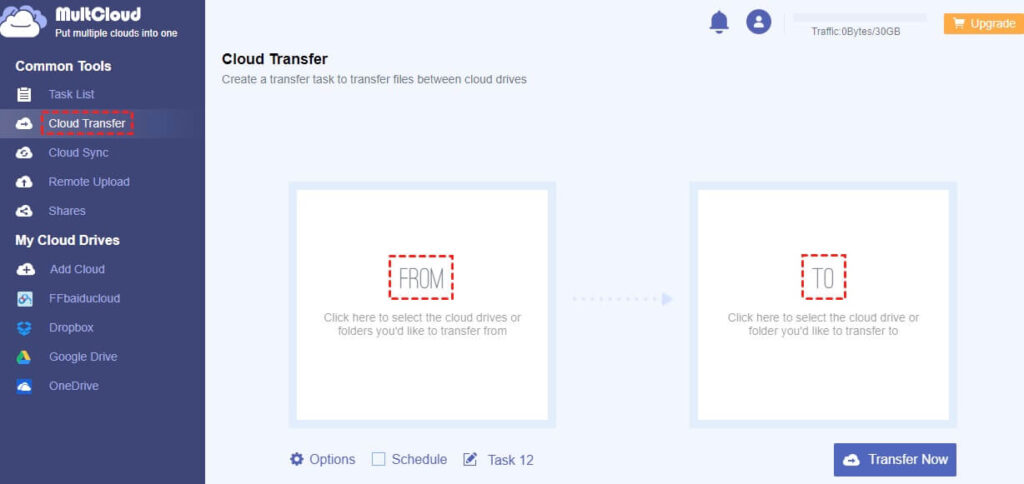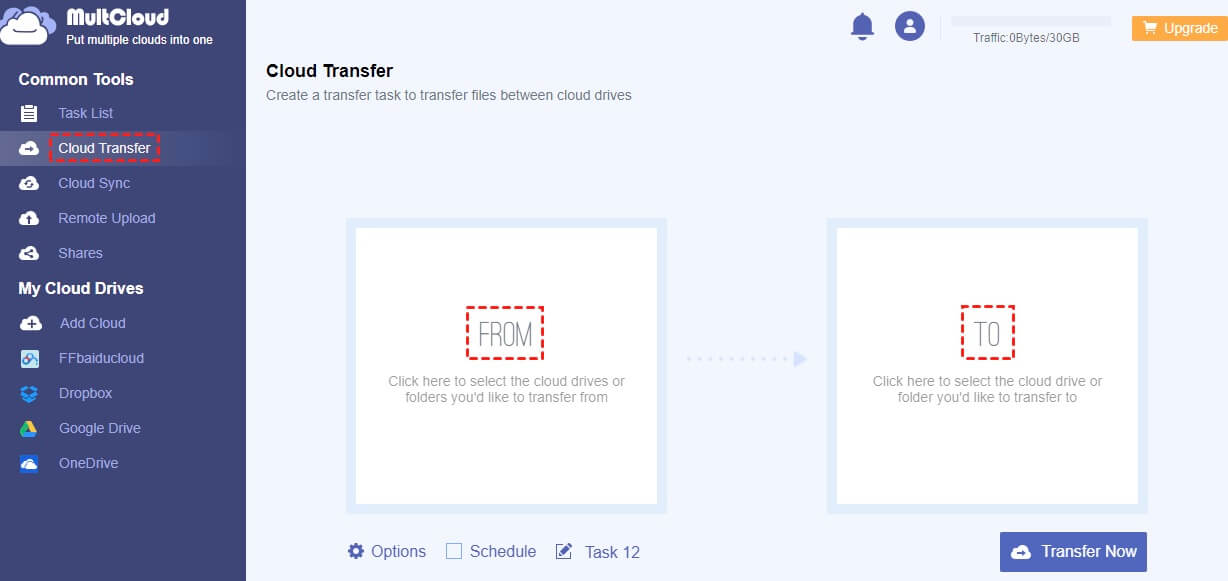 Migration of data is no longer a tough challenge for cloud drive users. Things will become hassle-free and easy to handle as soon as you start to deal with cloud file transfer tasks using MultCloud. You could even transfer files from one cloud to more than one of other cloud accounts at a time. However, the basic "copy & paste" function is also easy in MultCloud. With a single click, files and folders can be copied from one service to another at once.
Cloud Sync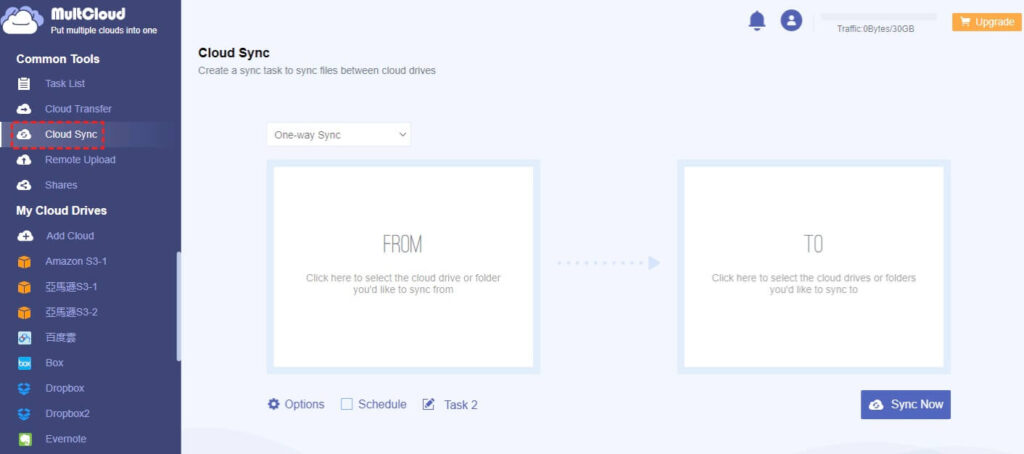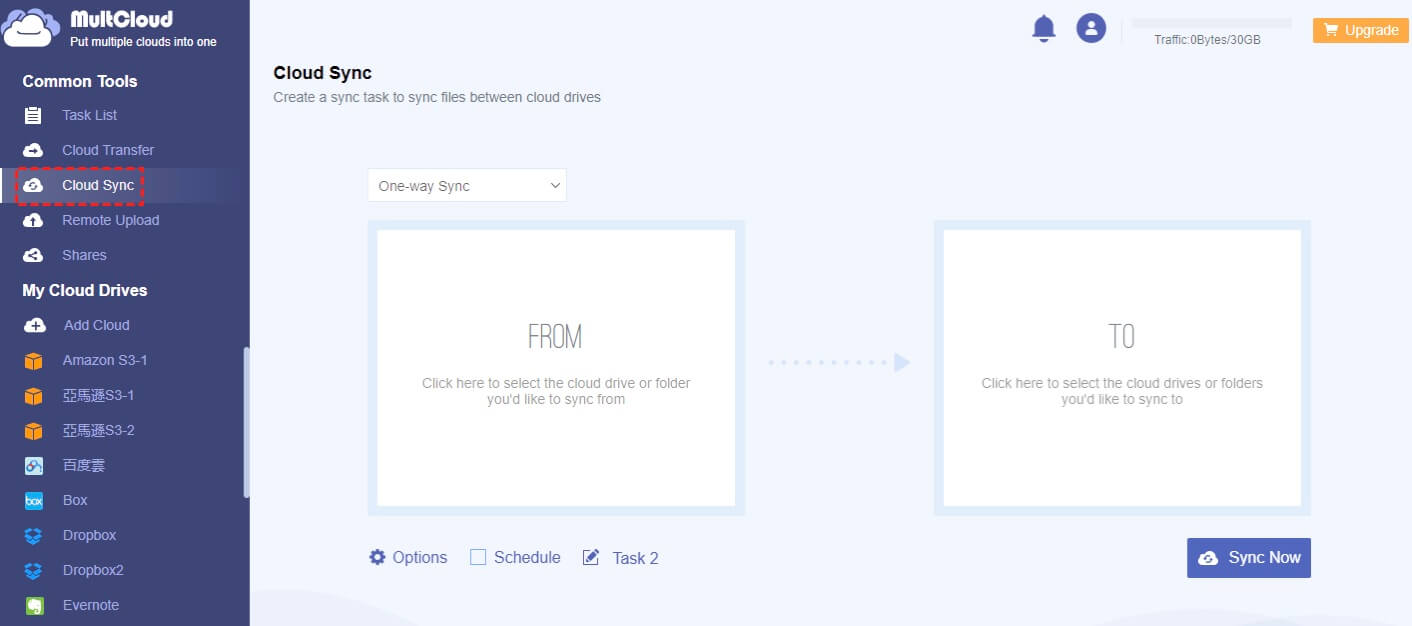 MultCloud supports 30+ popular cloud drive services. You can use it to sync data between various clouds with one of the 9 distinctive sync modes, including Real-Time Sync, Two-way Sync, Simple Sync for all users and Full Backup Sync, Move Sync, Incremental Sync, Update Sync, Cumulative Sync, Mirror Sync only for upgraded users.
Cloud Management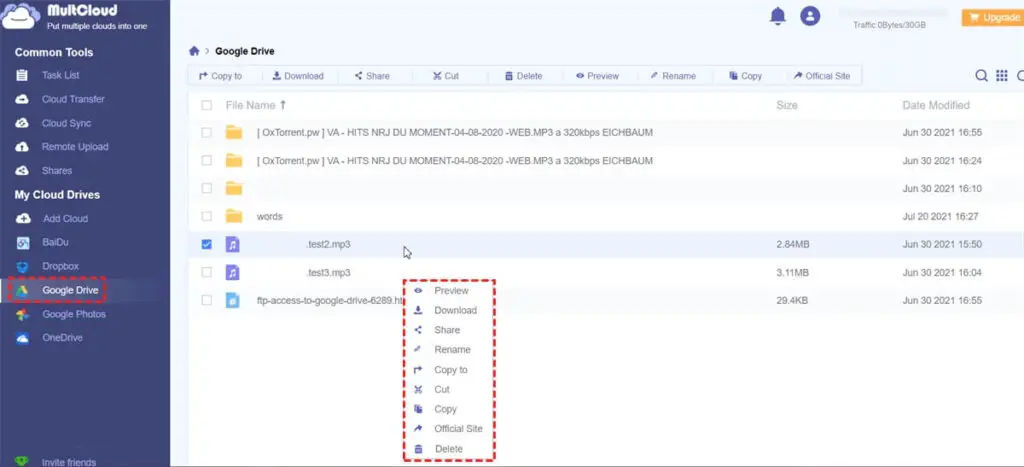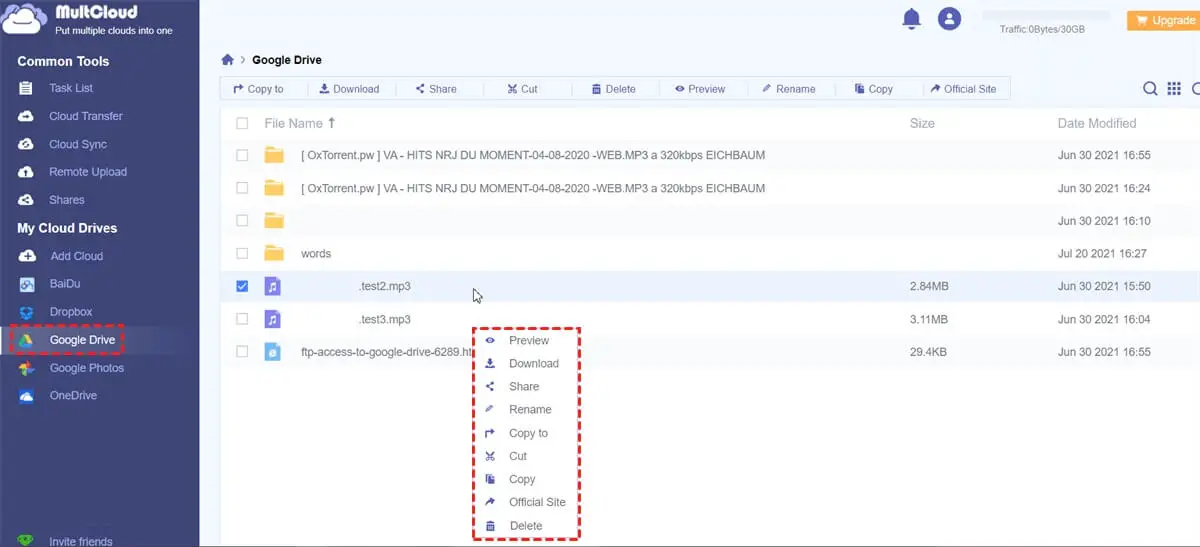 There is no need to manage data across different platforms anymore. If you use MultCloud services, you can use only one space to manage all the cloud drives. You can handle files, accounts, and passwords without any extra effort. MultCloud allows you to upload, download, cut, copy, preview, rename, remote upload, and share files with all your cloud accounts in it. In other words, you may seldom open your cloud drives through official websites after using MultCloud.
How to Use MultCloud?
Step 1. Sign Up MultCloud for Free
Open MultCloud website in your browser.
Click "Sign Up for Free" to create a MultCloud account.
To get a temp account to have a try, you could click "Try without signing up" instead.
Step 2. Add Your Cloud Drives to MultCloud
Click "Add Cloud" and choose the icon of the cloud drive which you want to add to MultCloud.
Follow the pop-up window to allow MultCloud to access your cloud account.
Repeat this step to add other cloud accounts to MultCloud.
Step 3. Transfer, Sync or Backup Files from Cloud to Cloud
Open "Cloud Transfer" or "Cloud Sync" function in the "Common Tools" list.
Click the left blank square to select a cloud from which you want to transfer or sync files from as the source.
Click the right square to select a destination cloud to store the migrated files.
Click "Transfer Now" or "Sync Now" to start the task.
You don't have to wait for the task to be done because MultCloud will perform the tasks in the background.
Conclusion
This article has illustrated clearly on how to transfer cloud data from one account to another by the most recommended tool, MultCloud. Since I've been using MultCloud for several weeks, I'm able to manage all my cloud drive accounts without any exhausting problems. If you are frustrated on dealing with multiple cloud accounts and often forget where your files are stored in, you could use MultCloud to solve all these problems at once.