Are you looking for the best GarageBand alternatives for Windows? Then you are in the right place. We are going to present to you the five best alternatives to GarageBand in this article.
You can find numerous GarageBand alternative software on the Internet. No matter how many there are, it is difficult to find the best one. So, here, we are helping you to find the GarageBand alternative that best suits your needs. Let's get started.
1. Audacity
The features of Audacity are as good as paid, expensive, professional audio editing software like Logic Pro X. It will handle all the basic needs you have in editing your audios. But Audacity has its own limits. So check whether these limits match your project capacity before starting your project. Most importantly, you should always be prepared to learn something new with Audacity.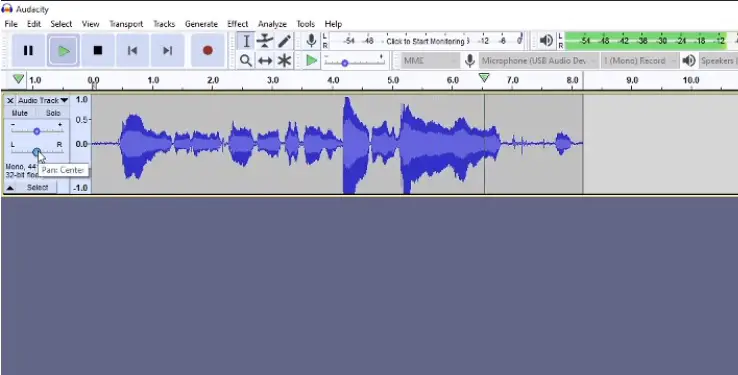 Main Features
Free and open-source
Cross-platform
Easy to use
Recording

Live audio recording using a mixer or microphone
Digitizing recordings from another media
Stereo recording support

Import/Export

Easily import, edit and combine audio files
Exporting audio in different formats
Exporting several files at one time

Sound quality

CD-quality: 16 bit, 24 bit, 32 bit
Sample rates and formats conversion using high-quality dithering and resampling
Easy to adjust sound quality

Effect plugins

Supported effect plugins: VST, LV2, Nyquist, LADSPA, Audio Unit
Easily edit effects in a text editor
Easily write your own plug-ins
Ability to preview VST, LADSPA, LV2, and Audio Unit effects in real-time
Easy plug-in installation via Plug-in Manager
Easy addition and removal of effects as well as generators via Plug-in Manager
Easily apply effects within only the selected part of the track

Editing

Easy to edit with multiple options like copy, cut, paste, and delete
Unlimited undo and redos

Accessibility:

Fully manipulation of tracks and selections using the keyboard
A wide array of keyboard shortcuts

Analysis:

Visualizing and choosing frequencies via Spectrogram view mode
Frequency analysis in detail via Plot Spectrum window
Vamp analysis plug-in support

Conversions

Double signal to single signal audio conversion
audio file to WAV or MP3 conversion

Easy transition
Multitrack support
Noise reduction feature
Batch processing
Sound optimization features like mixing, trimming, effects, etc.
Good community support
A good tutorial for learning within the software
Required lower system requirements
Friendly and quick 24x7x365 customer support
Pros & Cons Of Audacity When Compared To GarageBand
Pros
Audacity is:
More usable
Better at meeting your needs than GarageBand
Cons
Audacity is:
More expensive
Steeper learning curve
More primitive effects tools
Lesser user friendly than GarageBand
Other cons are:
Unable to record audio from several devices
Difficult to manage multitrack audio
Hard to explore compression and EQ options
No precise editing functions
Complicated initial setup for MP3 saving. But once you set it up, you do not need to do it again.
Hang issues when editing a large audio file
These small disadvantages are not a big issue when compared to Audacity's extensive features. Though it is difficult and takes much effort and time to learn Audacity, once you learn it, you can easily use it forever without any great effort. If you want to learn it, you can find many instructional videos and articles on the Internet.
Types Of Audio Editings That Audacity Supports
Conference audio editing
Creating podcasts
Song mixing
Noise removal of poorly recorded audios
Making prompts and on-hold music
Creating in-house recordings and uploading them
And many more
Audacity is most suitable for:
Startups
Novice engineers
Try it out today! It is free and powerful!
2. Adobe Audition
Adobe Audition is a professional audio editing software from Adobe Inc. This is the best selection for video editors who are currently using Adobe After Effects or Adobe Premiere Pro. You can find almost all the features you need when editing any audio in Adobe Audition.
Features
Easy to use
More options for editing
Multitrack support
Waveform
Non-destructive editing environment via the Effects Rack
Spectral frequency display
Essential Sound panel
Diagnostic panel
Visually pleasing and customizable interface
Effects
Remix tool
Easy to undo anything
Sound Destroyer Effect /  Noise Reduction Effect /Sound leveler feature
Support for effect plug-ins like VST, VST3, Audio Unit, etc.
Support for external algorithms
Fast export process
Files Panel for relinking files and related session clips
Cross-compatible with rest of the Adobe products within the Adobe creative suite
In-built tutorial / "learn Audition" function for gaining knowledge.
Great support team
Good community
Pros & Cons Of Adobe Audition When Compared To GarageBand
Pros
Adobe Audition is:
Easier to set up
Better at meeting your needs than GarageBand
Cons
Adobe Audition is:
More expensive than GarageBand
Other cons are:
Unable to save the Effects Rack with the file
No MIDI support
Complex interface for beginners
Difficult to understand all the features without a guidance
Inactive and forgetful when audio hardware is changed
Though Adobe Audition has a steep learning curve, once you learn it, you can use it forever.
Types Of Audio Editings That Adobe Audition Supports
Creating and editing audios for

Podcasts
Interviews
YouTube videos
TV
Radio
Short films
Online course materials
Presentations

Recording and mixing music
Commercials
Record and create sports updates
Cleaning up recordings
Voice-over editing
Expanding duration of a  music track to fit a particular video
Adobe Audition is most suitable for:
Beginners
Intermediates
Experts
Try the powerful features of Adobe Audition today!
3. Ableton Live
Ableton allows you to produce any kind of music using its amazing and powerful collection of plugins, sounds, and instruments. Before purchasing the software, you can download the fully-featured demo to check whether it really fits your needs or not.
Features
Easy to use
Auto quantize
Configured and mapped MIDI Controllers / MIDI mapping / MIDI instrument support
Push 2 controller
Plugin support
Smooth and easy workflow
Live performance mode
Stock effects
Warping feature
Grouping feature
Many workflow optimizations by use of interface, keystrokes, and routing options
Pros & Cons Of Ableton Live When Compared To GarageBand
Pros
Ableton Live is:
Better at meeting your needs than GarageBand
Cons
Ableton Live is:
More expensive
Slower to get ROI than GarageBand
Other cons are:
Non-traditional interface
Steep learning curve
Missing some key features such as

Audio-comping
Integrated pitch correction tools
Support for destructive MIDI effect plugins
Though Ableton Live has a steep learning curve, once you learn it, you can use it forever.
Types Of Audio Editings That Ableton Live Supports
Industry-standard, professional-level audio production
Making high-quality music for any purpose like songs, chill music, dance music, dubstep, YouTube channels, commercials, podcasts, short films, etc.
Live performance
EDM production
Ableton Live is most suitable for:
Bedroom producers
High-level professionals
All types of musicians and music producers
Small parties
Big DJ events
Make music that you have in your mind with Ableton Live today!
4. FL Studio
FL Studio is all in one package for recording, editing, mixing, and mastering high-quality music.
Features
Ease of use
User-friendly interface
Multiple custom plugins
Wide variety of in-built samples and tools
Good MIDI support
Numerous virtual instruments
Able to save to numerous audio formats
Free lifetime updates for licensed users
Autosave feature
Warping
Perfect workspace customization
Very nice native sound kits
VST support
Soundfont support
High-quality effects and generators
High-quality sound
Wide range of sound options
Create audio in any format
Export many formats
Classic sequencer
Pros & Cons Of FL Studio When Compared To GarageBand
Pros
FL Studio is:
Better at meeting your needs
More usable than GarageBand
Cons
FL Studio is:
More expensive than GarageBand
Other cons are:
A bit of a learning curve: but you can find many free online tutorials and YouTube videos
Bit different signal flow logic when compared to other Digital Audio Workstations (DAWs): So it is somewhat challenging to get used to it.
Unable to undo some specific changes
Types Of Audio Editings That FL Studio Supports
Music production
Mixing
Mastering
Making beat patterns and loops
Creating electronic music
Creating MIDI mockups
Editing MIDI tracks
Commercials
Creating background music
FL Studio is most suitable for:
Beginners in audio engineering, producing, and music
Intermediates
Professional producers
DJs
Try FL Studio's great features today!
5. Reaper
Reaper is an excellently engineered, open-ended DAW. It allows you to try the software for two months freely before purchasing it. This will help you to study the software and decide whether it fits your needs or not.
Features
Fast performance
Reliable
Robust
Flexible
Ease of use
Customizable, user-friendly interface
Full multitrack audio
MIDI recording
MIDI routing
Numerous plugins support (VST, VST3, AU, DX, JS, etc.)
Able to add plugins as well as effects to track input or the track itself
Able to live monitor while doing the recording
Search feature for finding any instrument or plugin
Unlimited audio track recordings per session
Integration with ReaRoute ASIO
Interoperability with game audio engines such as Wwise and Fmod
Click and cut tool for erasing and cutting any section of the recording with ease.
Export files in any format such as MP3 or WAV
Automatic plug-in delay compensation (PDC)
Unlimited free updates
Pros & Cons Of Reaper When Compared To GarageBand
Pros
Reaper is:
Better at meeting your needs in recording as well as editing audio
Better at customer support
Lesser consumption of RAM than GarageBand
Cons
Reaper is:
More expensive than GarageBand
Reaper does not have
MIDI editing features of GarageBand
MIDI sample library That GarageBand does have
Other cons are:
A bit complicated UI for first-time users: So it is somewhat challenging to get used to it.
Complicated audio routing between tracks
Complicated aux track creation
More customization at the beginning
Steep learning curve
Insufficiency of restoration tools
Types Of Audio Editings That Reaper Supports
Recording very long multitrack audio sessions
Editing commercials and bumpers for radio broadcast
Producing music for musicians
Recording and editing several sources concurrently.
Recording songs for selling online
Location recording
Science and research
Sound design
Game development
Reaper is most suitable for:
Beginners in producing and audio engineering
Intermediates
Hobbyists
Give it a try and check whether it fits your needs.
Conclusion – Garageband Alternatives for Windows 2021
Hope this guide helped you in finding the most suitable GarageBand alternative for your Windows PC that best fits your needs. If you have any other recommendations, feel free to mention them in the comment section. We are always happy to hear from you.